The Santa Fe Review

A Journal of Commentary and Reportage
copyright 2009 by George Johnson
updated 10/28/09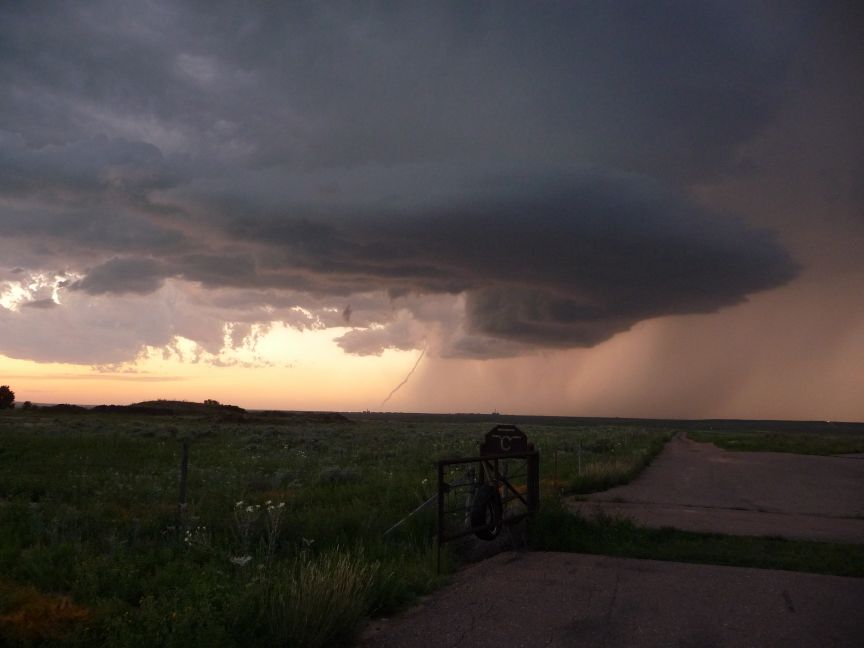 Kansas thunderstorm, August 1, 2009. photos by George Johnson, copyright 2009
October 4, 2009
63. Sim City
We've written here before about the great boondoggle of 1930, in which the City of Santa Fe was persuaded to give the most valuable piece of its Northwest Quadrant to a real estate speculator (and later governor of New Mexico) in return for a small cut of the proceeds. (Please see The Dempsey Papers, April 9, 2007.) The parcel, 2,000 acres of public commons granted to the town by King Philip V of Spain, is now the site of Don Tishman and Eddie Gilbert's Zocalo condominiums, the Las Estrellas subdivision, Garrett Thornburg's corporate headquarters, and numerous Northside mansions off Bishop's Lodge Road, including Governor Richardson's. The city hung on to the rest: 2,770 acres of hilly, arroyo-cut scrub land whose highest and best use was gathering firewood and piñon nuts, accommodating hobo camps, and disposing of old cars, mattresses, and recently swigged beer cans. The southwest corner of the grant became the city dump and a Japanese internment camp and is now home to the Buckman Road Transfer Station. But most of the area, classified as "Mountainous and Difficult Terrain," has sat vacant. Because of the steep slopes, it would be an expensive place on which to build.
Undaunted, the City Council took the first steps last week toward rezoning 540 acres of the old grant to accommodate the eventual construction of six new neighborhoods. There, it is envisioned, teachers, nurses, police officers, fire fighters, and other aspiring members of the middle class will be able to buy reasonably priced homes just two miles from the Plaza. The enormous development costs would be offset, in part, from the expanded tax base and $10 million in hypothetical government grants.
Described in the impressively illustrated Northwest Quadrant Master Plan, the project is an urban designer's dream. There would be a Jane Jacobs-like neighborhood called Main Street -- a dense, vibrant blend of townhouses, apartments, "live-work" units, and small businesses centered around a community plaza. There would be Happy Valley (really!), a "mixed use, arts-and-crafts community" of rowhouses and cottages that "will thrive around its diversity." There would be more staid neighborhoods like those you might see at Rancho Viejo, and to help subsidize the whole effort, a ritzier Southwest Neighborhood of larger houses on bigger lots. All these places would be neurologically connected by a "backbone" parkway lined with hiking and biking trails. People rich and poor, of all races, creeds, colors, and sexual orientations, would bicycle to dinner or to a concert in the park -- and when they had to leave their comfortable enclave they would get in their cars, funnel out through the single entrance on Ridgetop Road, and merge onto the highway for the short trip to town. In case of an emergency evacuation, a back gate could be opened onto Camino de Los Montoyas.
That is the kind of monster that is born when idealistic visions collide with political reality. It would be good if Santa Fe had more affordable housing on the picturesque Northside. But to keep from undermining existing neighborhoods like Casa Solana with an intolerable amount of cut-through traffic, the proposed new community would be sealed off from the rest of town. It wouldn't really be part of Santa Fe.
On Saturday, to improve my mental map of the area, I parked along Los Montoyas and walked uphill on a steep, eroded dirt road that skirts the southern edge of Happy Valley. There were mounds of trash, old sofas, and broken bottles. All four walls of a PNM electrical substation were smeared with graffiti. (This is where, two summers ago, a young vandal electrocuted himself while trying to tag a 115,000-volt transformer.) But if you blur over the details, this is a magnificent piece of land. Near the site of the neighborhood to be called Main Street, I looked out from the top of the highest hill. Thompson Peak and Atalaya Mountain formed a striking backdrop to the National Cemetery, where rows of white markers undulated through green hills. Even Zocalo looked good from up there.
I thought about other ways that the city might use this land, as King Philip decreed, for the commonweal. Maybe when the economy improves, some of the choicest homesites -- comparable to the best in La Tierra or Las Campanas but right in town -- could be sold to a high-end developer, whose clients could afford the gravity-defying construction costs. The proceeds from the sales could be used to expand programs for down-payment assistance and low-interest rehab loans -- subsidies to improve neighborhoods that exist on the ground instead of in architectural cyberspace. The $10 million in grants that the Northwest Quadrant would consume could go instead to projects like the one on West Alameda, where dilapidated public housing is to be bulldozed and replaced with a mixed-use development. The lower slopes of the quadrant might be a relatively economical place to build workforce housing. But most of these rollercoaster badlands beg to be cleaned up and turned into open space, Santa Fe's Central Park in the wild.
There is only so much you can do to fight geography. The primary reason that affordable housing is mostly on the Southside is not a matter of social injustice but of practicality. The land is flatter there.

October 5, 2009
The Fierro Trial
As most everyone in Santa Fe knows, Carlos Fierro, the young lawyer whose future once seemed so bright, was convicted last week of killing a man with his car. In addition to the excellent trial coverage in the dailies by Jason Auslander and Vic Vela, there have been two thought-provoking analyses. In the Journal Mark Oswald wrote about a question that has been simmering on low boil: Why was Willee's Blues Club (I just can't bring myself to capitalize that inner l) cited for serving Mr. Fierro one too many, while the Rio Chama Steakhouse got off scot-free? Willee's was Mr. Fierro's last chance for alcohol before the fatal accident, but he testified that he didn't imbibe there. He may have been too drunk to remember. Before arriving at the club, he and his cohort, Alfred Lovato (a state police sergeant then employed as one of Gov. Bill Richardson's body guards), had run up a 16-drink tab at Rio Chama, maybe with a little help from a friend. Did Rio Chama evade notice because it is owned by Gerald Peters, one of the Governor's most generous supporters? Mr. Oswald avoids that kind of conspiratorial kneejerk. But he wonders: if Rio Chama is blameless, then why was a hapless convenience store clerk in Bernalillo cited for selling a six-pack to a drunk (Dana Pabst) who, later in the day, wiped out a family?
In the New Mexican, Anne Constable tackles another conundrum, involving jury instruction Number 8. It is dumfounding that neither the prosecutor nor the judge in the Fierro trial noticed the defense team's bait-and-switch: rewording the instruction to misstate the law and make it all but impossible to convict. The jurors had been told to find Mr. Fierro guilty of vehicular homicide if he was the significant cause of the accident but to acquit him if his victim, William Tenorio, was a significant cause. What? After the jurors brought this muddle to the court's attention, the error was corrected and Mr. Fierro was found guilty. But now there is the likelihood of a mistrial in a case that should have been clear cut.
Throughout these twists and turns, the matter of Scott Owens, charged in another vehicular homicide, has taken a different path. Mr. Owens is the guy who was driving drunk late one summer night in the wrong lane of Old Las Vegas Highway when he saw, bleary eyed, a pair of headlights coming at him. He steered to the right to get back on his side of the road. At the same instant the other driver, a 16-year-old girl, tried to avoid Mr. Owens by steering left. Their paths crossed, and while Mr. Owens came out o.k., four young passengers in the other car were killed.
Unlike Mr. Fierro, Mr. Owens is taking responsibility for his recklessness and, according to the New Mexican, is negotiating a plea bargain. That might anger some of the victims' friends. But trial or not, there is little question that Mr. Owens will serve hard time.
Imagine an alternate universe in which he goes to trial and is represented, like Mr. Fierro, by Jason Bowles and Robert Gorence. First the lawyers might seize on the fact that the teen-aged driver was operating a vehicle under a provisional license. She could not legally be on the road so late at night and, to avoid distraction, was not allowed to have more than one under-aged passenger in her car. Pressing the point, the lawyers might note that she was part of a caravan -- all the drivers and passengers were juveniles -- heading to Eldorado for an after-midnight party. The defense might even dredge up a discredited rumor that one of the other student's cars swerved into Mr. Owens and initiated the chain of events -- anything to manufacture doubt in the jurors' minds.
Then, borrowing a theme from the Fierro trial, the lawyers might argue that there were no streetlights on the stretch of road where the accident occurred, and that the teen-agers who died were in a dark red Suburu, as invisible in the night as a Stealth bomber. The defense would concede that Mr. Owens was guilty of DWI but contend that the accident might have been avoided had not an inexperienced driver been at the other wheel. If only she had swerved right onto the shoulder instead of left into the other lane. If only her car had been white. Finally, just to be sure, the defense could doctor the jury instructions knowing that at worst that might result in a mistrial.
In a plea bargain, Mr. Owens might shave years off his prison term, but at least he is not trying to beat the rap. His actions, with their horrible consequences, are hard to forgive, but compared with Carlos Fierro, Scott Owens is looking like a class act.

October 12, 2009
Thornburg
While the New Mexican business desk lumbers along, the Journal has been pursuing the scandal at bankrupt Thornburg Mortgage. Last month the company's principals, Larry Goldstone and Clarence Simmons, were forced to resign after they were accused by the Justice Department of taking money owed to creditors and spending it on themselves. Mark Oswald, the editor of the Journal's northern New Mexico edition, went on to report that because of the "shocking allegations" Garrett Thornburg himself had resigned from Thornburg Mortgage's board.
That was mostly window dressing. Mr. Thornburg remains at the helm of another entity, Thornburg Mortgage Advisory Corporation, which manages what is left of the mortgage company. Last week, we learn from Sunday's Journal, he took another step to distance himself: a legal complaint accusing his old friends of "self-dealing," "corporate waste," and "unjust enrichment."
We're supposed to believe that until their sudden betrayal, everything Mr. Goldstone and Mr. Simmons did was for the greater good of the company and its stockholders. After the two executives underwent a Jekyll-and-Hyde-like transformation, they were removed from their posts. Now everything is fine again.
Maybe the feds will buy this story. Otherwise a judge will be appointed to take over Thornburg Mortgage and preside over its liquidation. If that happens who knows what else will come scurrying from under the rocks?
The Indian School
I received a call last week from Senator Tom Udall's office apologizing for the delay in getting back to me about the demolition of the Santa Fe Indian School. (Please see my earlier reports for details.) A staff member said that the Senator has been assured by the Inspector General of the Interior Department, which oversees the Bureau of Indian Affairs, that an inquiry is under way. The result, I'm told, will be a legal opinion on whether federal laws were broken.

October 18, 2009 (updated 10/19)

I haven't been here long enough to remember Zook's Pharmacy, Bell's Department Store, the Canton Cafe on San Francisco Street, or the Union Bus Depot (now the Coyote Cafe). These are among the downtown institutions whose passing marked for some longtime residents the moment when Santa Fe no longer felt like home.

For me it would be the Burrito Company. I headed down there this morning for breakfast, as I often do on Sundays, only to find it gone, replaced by some horrible thing called the Coffee Beanery. Along with several other disgruntled Burrito Company customers I stared dumfounded through the door where hip, young employees were installing generic chain store furnishings and signs. Just what Santa Fe needs, another place to buy expensive servings of warm flavored water identically available in two dozen other states. I kept thinking about the nice family (from Nayarit, Mexico, I believe) who recently began running the Burrito Company. The food, barely changed since I first ate there in 1992, was as good as always and the service friendly. It was my favorite place to grab a quick meal downtown. I liked watching the people from the pueblos stopping there for breakfast on their way to sell pots and jewelry beneath the portal of the Palace of the Governors. It was hard to imagine many of them buying lattes and frappucinos. Later in the day I noticed a security guard posted outside the door and wondered whether the new owners were anticipating a riot. What a relief it was to learn Monday morning, from Julia Goldberg at the Reporter, that the sudden transformation is for a movie set. According to the October 11 edition of El Mitote the Burrito Company will return on October 24.

A block away, on Lincoln Avenue, was another surprise. Beneath the red awning next to the Talbot's clothing store was a sign that said "Buffalo Thunder Resort & Casino." I crossed the street for a closer look. There were no slot machines or prostitutes inside, and a small placard in the window said Glenn Green Galleries. Is the Buffalo Thunder sign supposed to be conceptual art or an advertisement? I don't know what to think.

I continued on foot to the new Railyard commercial development where business seemed as subdued as ever. The Bin 132 Wine and Cheese Bar was still "Opening Soon." A sign for the Second Street Brewery in the Farmer's Market Building insisted that it was "Coming This Fall." In two more months it will be winter. I looked through the dirty windows and saw nothing but raw, empty space. (Another sign on the building said, "Please Do Not Loiter and Do not burn fires." There must be a story there.)

As I headed toward Don Wiviott's half-empty Artyard Lofts, which have been holding a perpetual open house, I passed by the hole where the Railyard movie complex was supposed to be. With private investors and the state unwilling to provide financing, the city is now thinking of underwriting the venture itself. I'm all for government economic stimulus, and I think the city's decision to rescue the mismanaged College of Santa Fe was a good thing. But maybe the reason no one wants to invest in a Railyard cinema is because it's a bad idea. Santa Fe has 28 movie screens. With a population of 72,000 that comes out to one screen for every 2,571 residents. The ratio for Albuquerque, with 71 screens and a population of 522,000, is one screen for every 11,900 residents.

On the way back to my car I walked through the Borders bookstore and overheard a customer asking a clerk where 500 Montezuma Street was. He said he was sorry but he didn't know. 500 Montezuma Street is the address for Borders and the other businesses at Sanbusco Market Center, once known as Santa Fe Builders Supply Company.

This evening I was looking again through the late Kingsley Hammett's wonderful book, "Santa Fe: A Walk Through Time," with its before and after photographs. What a fine place this must have been.

October 19, 2009
I feel a little foolish having become so exercised over the disappearance of the Burrito Company, only to learn that it has been temporarily commandeered by Hollywood. (Please see above.) I remember a similar incident, a few years ago, when my wife and I passed through Madrid on the way home from Albuquerque. The town was bedecked with carnival lights and filled with colorful amusement park rides. A banner hanging over Main Street said Madrid Chili Festival. The Texan spelling should have been a tipoff. What we had seen were props for the filming of Wild Hogs starring John Travolta. At the general store, some Madrid locals were hanging around and grumbling about having their town forcibly converted into a movie set. An entrepreneur later tried to turn the fictional festival into a real event, angering residents even more.
I received more direct exposure to the arrogance of the film industry when I woke up one morning to find that Cristo Rey Street, a stone's throw from my house, was lined end to end with trailers and RVs. Dozens of men and women were milling about in what looked like 19th-century clothing and a gasoline generator was sputtering away. This was around the time of the scandal over the Bikini Virgin, and I thought at first that an army of conservative Christians was camping out in preparation for a protest up the hill at the Museum of International Folk Art. After several phone calls, I learned that the City had given a film crew a permit to use the street for a staging area (the filming itself was on upper Canyon Road) without thinking to inform the neighbors.
When I lived in New York City it sometimes seemed as if the movie industry had been granted powers of martial law and eminent domain. One day I was walking back from lunch to my job at the Times building on 43rd Street only to find the sidewalk blocked by an unctuous young security guard with a walkie-talkie. "Woody really appreciates your patience," he kept telling the crowd waiting to get back to their desks. A Woody Allen film, Bullets Over Broadway, was in production. We waited and waited until finally a burly member of the pressmen's union gave the guard a menacing look and said, "F-- you. You're not a cop." He nudged him aside and we all laughed and went back to work.
On Fridays I usually left the building around 11 p.m. and caught a taxi at Times Square for a ride home to Brooklyn. One night the driver got all the way down Broadway to Chambers Street only to find that the Brooklyn Bridge was closed. The meter was running, but he refused to take me by another route (cabbies hated to leave Manhattan because it was hard to get a return fare). I refused to pay him and got out of the cab for the long dark walk across the bridge, which is a little scary around midnight. As I crossed over the water I looked down through the grating of the catwalk expecting to see that a semi-trailer truck had overturned, blocking the traffic lanes. Then I noticed them, the young men with the walkie-talkies. The Brooklyn Bridge had been closed on a Friday night for the filming of Diehard 3. I loved Diehard 1 and Diehard 2, but the third one was a flop, hardly worth the toll in human suffering.

As if it weren't difficult enough to be optimistic about the future of the Railyard Cinema, I just read the latest scoop by Corey Pein in the Santa Fe Reporter's blog. Here's an excerpt:

	SFR has learned that one of the principals in the company
	that wants taxpayers to help build a cinema in the Railyard
	has been charged several times with writing bad checks. . . .
	A resolution coming before the Santa Fe City Council's
	Finance Committee tonight would begin the process of issuing
	a $35.4 million bond to build a movie theater in the
	Railyard, and authorize the city manager to negotiate with
	Railyard Co.

	Why would the taxpayers entrust millions to a company whose
	leadership includes a man repeatedly charged with failing to
	meet his financial obligations? Incredibly, despite all the
	controversy that has surrounded the idea of a Railyard
	cinema, no one has asked this question.

October 20, 2009
Five years ago, just before Santa Fe's annual Fiesta, three members of Don Diego De Vargas's cuadrillo were suspended for drinking and rowdy behavior at a Mariachi celebration at the Santa Fe Opera. Interviewed by the New Mexican, the president of the Fiesta Council was forthcoming and the incident was quickly forgotten.
If only the Council's present leadership was so savvy. On October 14, Anne Constable, one of the New Mexican's most experienced reporters, wrote about a fight at this year's Gran Baile between some young women in the Royal Court. The ruckus resulted in the filing of dueling police reports, and La Reina, the Fiesta Queen, was treated at the hospital for a minor injury. Two days later, as more information became available, Ms. Constable expanded on the story.
Throughout all this, the Fiesta Council turned down her requests for interviews, but that hasn't stopped it from complaining, in a public statement, that the New Mexican's coverage was "one-sided." It was also "sensational" and "gossipy," and Ms. Constable, we're told, "failed in her duty to produce a truthful, honest, fair, and objective newspaper article."
Her real offense, of course, was refusing to be intimidated into dropping a legitimate story that some influential individuals wanted hushed up. By slandering a good reporter, the Council has brought far more embarrassment down on itself than that caused by the behavior of a few immature young adults.

October 27, 2009
When a doctor is falsely accused of malpractive, the result is a lawsuit. A journalist who is similarly maligned is supposed to sit back and take it. I suspect that is what Anne Constable will do in light of the fulminations by the Fiesta Council, which has further embarrassed itself by publishing them verbatim in Sunday's New Mexican. The statement by the council's president, Alberto Montoya, appears both as an op-ed piece and as a paid advertisement. At least the latter will marginally add to the newspaper's bottom line.
There was more bad news last week for Thornburg Mortgage. According to Reuters, a federal court has taken control of the company by appointing an independent trustee to oversee the bankruptcy proceedings. This is a very big deal but the news got only a brief in the New Mexican -- followed today by another Bob Quick puff piece about Thornburgh's other venture, Thornburg Investment Management. The newspaper might just as well have reprinted the company's press release.
Inez Russell, an editor and columnist at the New Mexican, has sent me an announcement from Pojoaque Pueblo that explains why its Buffalo Thunder gambling and golf resort has opened a storefront on Lincoln Avenue, half a block from the Plaza. The space will serve as "a downtown concierge and satellite office" and a gallery to sell Indian art. In June Buffalo Thunder missed an $11.5 million dollar payment on the $245 million it owes to bond holders. I guess it's hoping to lure more Santa Fe tourists to feed the slot machines and roulette tables.

October 28, 2009
Mark Oswald, the editor of Journal Santa Fe, has written to note that he had the story on the appointment of a Thornburg trustee on Saturday, two days before Reuters. Apologies for missing that. Unlike the perfunctory brief in the New Mexican, the Journal had a full report, including some helpful context:

	The federal court system's Web site, in a section on
	bankruptcies, explains that the appointment of trustee in Chapter
	11 cases is "a rarity" and comes in cases of fraud, incompetence
	or to protect interests of creditors owed money by the bankrupt
	company. 


Mapping Out the Rental Racket

A Special Report: The Mysterious Destruction of the Santa Fe Indian School
The Andrew and Sydney Davis Webcam
A Stroll Along Shirley Maclaine Boulevard
---
The Santa Fe Review


subscribe to the RSS feed
More links:
See the current flow of the Santa Fe River above McClure Reservoir with the USGS automated gauge.
The Otowi gauge shows the flow of the Rio Grande north of Santa Fe.
Santa Fe water information, a collection of documents and links