The Santa Fe Review

A Journal of Commentary and Reportage
copyright 2009 by George Johnson
Dispatches from the Land and Water Wars
updated 10/1/09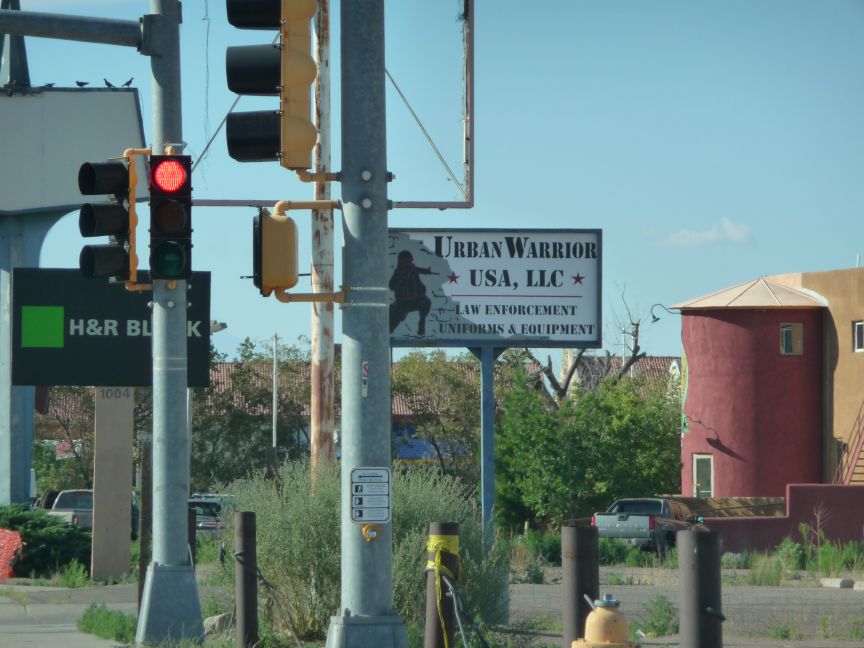 Socorro, NM. photos by George Johnson, copyright 2009
September 1, 2009
62. The Great Drought of '09
In 2002, with Santa Fe suffering from the driest weather in decades, two newly elected City Councilors, Rebecca Wurzburger and David Pfeffer, introduced an ordinance that became Santa Fe's first water budget. Each year the city would determine how much water was available from its wells and reservoirs -- the Total System Supply -- and how much water was needed for present and anticipated uses. This Total System Demand would be subtracted from Total System Supply. Only if there was an excess would new construction be allowed.
If that is all there had been to the ordinance, development would have been stopped in its tracks. There is never any extra water. There was, however, an important loophole. Anyone wanting to build a new house or even a new subdivision could bureaucratically "create" new water by paying to replace water-guzzling appliances in existing homes or businesses with more efficient models. To build a new house, no matter how large, one would have to retrofit between eight and twelve old toilets, depending on the size of the lot. That would supposedly make up for the entire amount of water the new house would consume.
The construction industry was so pleased with this fiction (the alternative was a building moratorium) that Mayor Larry Delgado, whose tie-breaking vote led to passage of the bill, was honored by the National Builders Association at an annual convention in Las Vegas, Nevada. (Please see item 3 on the very first page of the Santa Fe Review). A black market for toilet retrofit credits quickly sprung up, and Santa Fe continued to get bigger and more crowded. 2003 was even drier than 2002, but the city kept on issuing building permits, pretending that because of the retrofit requirement there was no impact whatsoever on the water supply.
On its face, the new water budget, passed last month by the City Council, is a big improvement. A detailed estimate must be made of how much water a proposed project will use. The builder must then obtain enough "conservation credits" to offset the impact. (As has been true in recent years, larger developments must purchase Rio Grande water rights and transfer them to the city.)
With a diminishing number of old toilets to replace, credits can now be created in other ways -- by replacing shower heads, washing machines, and other fixtures; by installing rain catchment systems and xeriscaping. Property owners who earn credits this way can transfer them to the city (in return for a conservation rebate), and the city can hold them in its water bank for public projects or for resale to builders and developers.
More ambitious property owners have another option: entering into a water conservation contract with the city. They would agree to reduce their water use by a certain amount in return for credits that could be sold to a developer or kept for future uses -- building a guest house or adding a bathroom. More generous souls could donate their credits to things like affordable housing, greener parks, or a flowing Santa Fe River.
The river, in fact, gets all kinds of lip service in the new ordinance. According to the minutes of the August 12 Council meeting, Councilor Calvert introduced a last-minute amendment urging the city to make "every reasonable effort to maintain a minimum flow in the Santa Fe River and to sustain a healthy riparian ecosystem." Another amendment by Councilor Wurzburger includes "creation of a living Santa Fe River" among the city's many priorities. These are nice thoughts, expressed so vaguely as to allow for maximum wiggle room. What is a "reasonable effort" and how does the city decide among its various priorities? A request by the Santa Fe Watershed Association for the city to specifically require that half the water saved by conservation go to the river was rejected out of hand.
For all its aspirations to be different, Santa Fe is still guided by a rather ordinary assumption: that the primary use for water is to accommodate more development. This summer's effort to maintain a small amount of water in the river has been an encouraging gesture. But how long will that last? So far 2009 has been about as dry as 2002. If next year is as bad, there will be nothing but good intentions to prevent the city from shutting down the river, while keeping the building permits flowing.

September 8, 2009
Here are more aerial photos from Thomas Blog, unofficial barnstormer for The Santa Fe Review.
September 15, 2009

September 16, 2009
Corey Pein has good cause to gloat over his scoops for the Reporter: Thornburg "Misappropriation"? and Feds Claim 'Gross Mismanagement' At Thornburg -- Or 'Incompetence' At Best. Numerous shareholder suits have been filed accusing the principals of Thornburg Mortgage of mismanaging the company, which is enmeshed in one of the largest corporate bankruptcies ever. Now two of them, Larry A. Goldstone and Clarence G. Simmons III, are suspected by Federal officials of mismanaging the bankruptcy for their own benefit. The details are in a motion (available on the Reporter's website) asking for the appointment of a trustee to protect Thornburg's creditors. Incidentally the $8,000 I invested in Thornburg stock is now down to $6, while Mr. Goldstone is still receiving $188,000 a month from the bankrupt company. (Please see the impressively researched piece Mr. Pein wrote earlier this month about Santa Fe's richest people.)

September 17, 2009
The Journal has picked up on the Thornburg accusations (and the resignations of Mr. Goldstone and Mr. Simmons) with a thorough piece by editor Mark Oswald, and Corey Pein advances the story another notch on the Reporter website. But there is nothing in the New Mexican about one of the most important local business stories of the year. All we've gotten recently from the paper is an admiring piece of free PR about Garrett Thornburg's other company (the nonbankrupt one).
September 22, 2009
The New Mexican finally got around to covering the Thornburg story last Friday, but it wasn't worth the wait. The editors might as well have run a wire service rewrite from the AP. No details or insight were offered beyond what others had already reported. All the flattering stories about Thornburg the New Mexican has published over the years didn't even earn it an exclusive quote from a company insider. When it comes to covering business, Santa Fe's paper of record is rarely more aggressive than a farm town gazette enthusing over the opening of a new hardware store -- or, in these days, a McDonald's. That might be tolerable for most towns this size, but Santa Fe is home not just to Thornburg but to powerful national real estate magnates like William Zeckendorf and Donald Tishman. They get the same fawning treatment as Garrett Thornburg.
Mr. Tishman is the developer of Zocalo, the brightly colored condominium complex built next to the interchange for U.S. Highway 84/285 and the Santa Fe Bypass. For days the New Mexican has been running advertisements (including those obnoxious front-page stickers) for an auction in which bidding for condos recently listed at $365,000 will start at $90,000. A story in today's business section reads like a continuation of the ad campaign. Zocalo offers "a combination of style, comfort and value," the auctioneer assures us in the third paragraph. (Some of the condos will have views, across four lanes of traffic, of the new Thornburg corporate headquarters.) In the story, a spokesman for the developer is allowed to get away with blaming Zocalo's troubles on the usual "unprecedented downturn in the real estate market," as though Mr. Tishman weren't among those eagerly pumping up the bubble right until it popped. Missing entirely are comments from Zocalo residents who paid full price for their cubicles only to have the developer undercut their "investment" by overbuilding and then holding this fire sale.
I drove out to Zocalo this afternoon and walked around the half-built northern section where the units to be auctioned sit vacant. The highway noise was constant like wind. Surrounding the complex are large swaths of graded land that would have held even more unsellable condos. Nothing lives there now but ants and weeds.
Another of Mr. Tishman's deals, the Tres Santos senior apartments, behind the McDonald's on Pacheco Street ("our location simply can't be beat!") is also suffering. (A principal in the project is former city councilor Carol Robertson Lopez.) The New Mexican did a better job of covering this mess, reporting last month that residents were unhappy about plans to renege on the commitment to rent only to older adults. In this market some landlords will take whatever they can get -- at the expense of tenants who took them at their word.
Bad judgments by people who were supposed to understand how money works, including the wizards of bankrupt Thornburg Mortgage, have left Santa Fe with a bottomless pit of junk real estate -- apartments, both condos and rentals, that nobody wants. Remember the situation early last year near the Railyard where developers were rushing to pile multi-level luxury condos onto an old established neighborhood of single-family homes? (Please see Chapter 47. The "New Urbanism" Scam.) "I feel infill is an answer to global warming on a big scale," said one of the speculators, who had shoehorned a three-story complex onto a small lot on Juanita Street. Since June, Los Alamos National Bank has listed two of the units for sale on its foreclosure page. You can also get a deal from the bank on a repossessed Dodge Grand Caravan.

September 27, 2009
Eddie Gilbert
After my previous post I was reminded of another of Santa Fe's mighty, Edward M. Gilbert, described a couple of years ago in New Mexico Business Weekly as a friend of Mr. Tishman's and an investor in Zocalo. Fans of classical music may recognize the name as part of "Eddie and Peaches Gilbert," who are frequently applauded from the stage of the Lensic Theater for underwriting another performance by the Santa Fe Symphony Orchestra.
Mr. Gilbert was accused, in 1962, of misappropriating $2 million from a company he controlled in order to cover margin calls in a collapsing bull market. Leaving behind a spacious apartment on Fifth Avenue in Manhattan, a villa on the French Riviera, a $3.5 million income tax lien, and some $14 million in other debts, Mr. Gilbert fled to Brazil. The caper was inspiration for a Louis Auchnicloss novel, A World of Profit.
Ultimately Mr. Gilbert returned to New York to stand trial and was sent to Sing Sing. That was not the end of his story. After his release, he rebuilt his fortune only to find himself back behind bars in 1981, convicted on 34 counts of stock fraud.
During the following decade Mr. Gilbert disappeared from public view only to re-emerge in Santa Fe, as president of the BGK Group, a real estate investment company with headquarters in that ornate old building on the corner of Garfield and Guadalupe streets. (Santa Feans will recognize this as the spot where, coincidentally, Carlos Fierro ran down William Tenorio last November. More about that below.) Specializing in commercial property, BGK claims control over some 265 buildings in 26 states. They range in grandeur from the frumpy Design Center on Cerrillos Road to First Galeria Plaza in Albuquerque to the Las Vegas (Nevada) Convention Center.
Mr. Gilbert, now 86, lives a quiet life with his fourth wife, Peaches, unbothered by the press. Anyone wondering how well the third Gilbert fortune has weathered the real estate crash won't find the answer in the New Mexican. A search of its archives turns up a few glancing mentions of the man: there was the time Mr. Gilbert invested in an unsuccessful revival of the Palace Restaurant (remember Señor Lucky's?), and the summer when a bear lumbered onto the Gilberts' three-acre estate on Camino del Monte Sol.
You can't buy that kind of nonpublicity. One more reason, I suppose, for living in Santa Fe.
As weak as it is on the business beat, the New Mexican has been providing riveting coverage of the Fierro trial, Santa Fe's Bonfire of the Vanities. (The Journal's reports have also been excellent.) Mr. Fierro, a local lawyer with political connections, was driving blind drunk with his headlights off when his black BMW struck and killed a pedestrian, William Tenorio. Mr. Fierro just kept on going. He said he thought Mr. Tenorio was a rock. When he was apprehended a few blocks away his blood alcohol level approached three times the legal limit.
In a world where there is no right or wrong, just technicalities, Mr. Fierro's lawyers are contending that his drunkenness was not a contributing factor -- that some streetlights were out and that the victim, who was only somewhat less inebriated than Mr. Fierro, was wearing black.
Complicating matters, both Mr. Fierro and Mr. Tenorio had been at a bar that evening called Willee's Blues Club. So had the eyewitnesses, though we have no way of knowing their blood alcohol counts. Two years ago I described a discussion I heard one morning on KBAC radio in which the owner of Willee's was complaining about police officers lurking outside his club to apprehend potential drunk drivers. The "Orwellian" surveillance was bad for business, he said, and an impediment to a vibrant Santa Fe night life. The gestapo must not have been on duty when Carlos Fierro stumbled into his car and managed to start the ignition. Otherwise William Tenorio might not have died, at least not on that particular night.

September 28, 2009
Postscript
A story in this morning's Journal by Phil Parker clarifies some details of the Zocalo auction next Sunday. While minimum starting bids will range from $90,000 to $115,000, the "reserves" on the apartments may well be higher. A Zocalo owner told the reporter that he had been unable to sell his own condo. "The market's frozen," he said.
October 1, 2009
There is more good reporting (and writing) this week in the Reporter from Corey Pein, who provides a context for the Zocalo auction that has been missing from the dailies. His article, which includes scenes from a so-called "practice auction" by Kennedy Wilson, the company handling the Zocalo sale, explores the possibility that selling unwanted condos to the highest bidder is primarily a variation on the subprime game -- a way to suck in barely qualified buyers and lock them into onerous (and profitable) mortgages.
Another impressive piece of journalism comes from Kiera Hay in the Journal, who inquires into the city's $450,000 investment in something called "creative tourism."

Mapping Out the Rental Racket

A Special Report: The Mysterious Destruction of the Santa Fe Indian School
The Andrew and Sydney Davis Webcam
A Stroll Along Shirley Maclaine Boulevard
---
The Santa Fe Review


subscribe to the RSS feed
More links:
See the current flow of the Santa Fe River above McClure Reservoir with the USGS automated gauge.
The Otowi gauge shows the flow of the Rio Grande north of Santa Fe.
Santa Fe water information, a collection of documents and links