The Santa Fe Review

A Journal of Commentary and Reportage
copyright 2008 by George Johnson
Dispatches from the Land and Water Wars
updated 11/21/08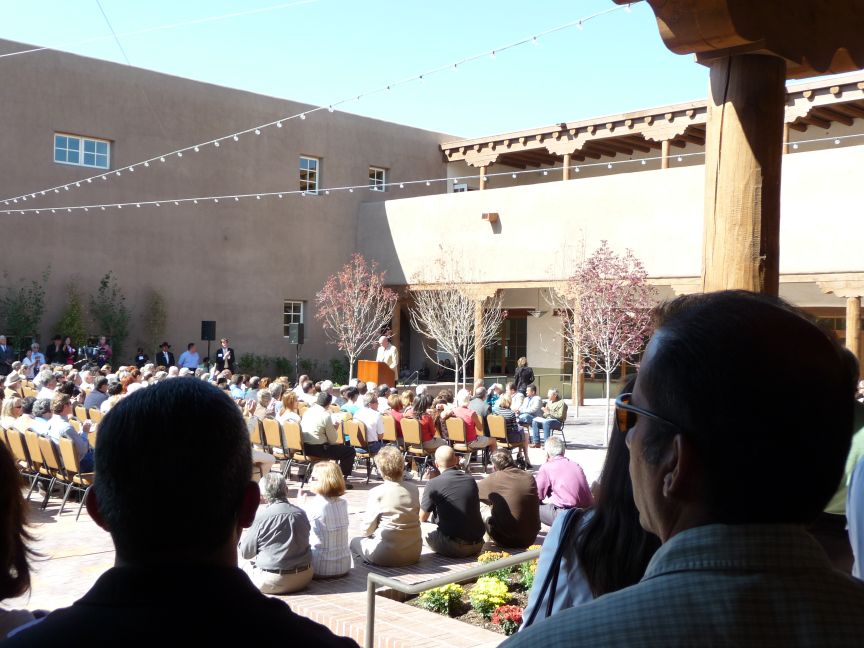 The new Santa Fe convention center. photos by George Johnson, copyright 2008
September 29, 2008
55. Spirit Worlds
By the time I arrived at the ribbon-cutting for the city's new convention center, Larry Delgado had taken the stage. The former mayor had aged enough that I almost didn't recognize him, but his grace and quiet enthusiasm came through. I remembered sitting across from him and his wife, Angie, years ago at a dinner for Santa Fe Beautiful. "Larry just loves being mayor," she'd said. Today he was back in his element. Looking at my watch, I wondered if he would ever surrender the podium.
Mr. Delgado's courtly manners had come as a relief, a decade ago, after four years of Mayor Debbie Jaramillo. One of his first acts in office was a public campaign encouraging people to smile. I cringed when I saw the ads but figured he would progress to more ambitious efforts. Mostly we got eight years of smiling.
The festivities were taking place in the convention center's courtyard. Watching from the sidelines in his black cowboy hat and bolo tie was Gil Vigil, a former governor of Tesuque Pueblo and the government liaison for the Santa Fe Indian School. Leaders at Tesuque are not chosen by popular election, as they are at some other pueblos, but appointed by tribal religious leaders. That makes Tesuque, by definition, a theocracy (one with a gambling casino), and its influence extends far beyond its borders.
Three years ago when skeletons and artifacts were unearthed during the initial excavation for the convention center, Tesuque protested -- spirits would be disturbed -- and tried to stop construction. The pueblo didn't own the land, nor was there any archeological evidence or historical records linking the long buried ruins to Tesuque. Potsherds found on the site suggested that the former inhabitants may have migrated southward, in the opposite direction of Tesuque. But the pueblo got its way. After tense negotiations, Mr. Delgado reduced the size of the project, eliminating 88 underground parking spaces. And his successor, David Coss, agreed, over the protests of archeologists and contrary to state law, to immediately rebury any artifacts that were found.
"We have to make sure these items don't go to scientific purposes," a Tesuque official, Mark Mitchell, said at the time. (He was also at the ribbon-cutting, standing next to Mr. Vigil.) He got his wish. The artifacts are now covered with concrete.
As I listened to the speeches I thought about how, just the week before, the convention center had been haunted by a different kind of spirituality. Its first major event, "Revive Santa Fe," was led by Dallas evangelicals who considered our town "the new Sodom and Gomorrah" (a good slogan for a t-shirt). When Mayor Coss learned about the group's apocalyptic views and homophobia, he backed out of his agreement to speak on opening night. But for some constituents that wasn't enough. A letter to the New Mexican suggested that the Santa Fe Convention and Visitors Bureau conduct an Indian "saging ceremony" when the revival was over "to rid the building of all negative energy." Maybe Tesuque can help.
Future events promise to be less out of whack with Santa Fe's aura: the International Conference on Creative Tourism, which starts this week, and meetings for organizations like the New Mexico Nurses Association and the Society for Applied Anthropology. But in case attendees need an uplift, the official City of Santa Fe convention website lists the services of a local spiritual healer and "psychic counselor." If only she had been on hand earlier this year at the International Conference on Science and Consciousness at La Fonda when a young Japanese visitor, certain that he was the victim of mind control, stabbed parapsychologist Rupert Sheldrake.
As I walked, mind wandering, out the back entrance of the courtyard toward Federal Place, one of the convention center's architects was speaking about the city's hopes for winning a LEED (Leadership in Energy and Environmental Design) Silver certification. It's commendable that material from the old Sweeney Center was recycled for the new complex and that extra strides will be taken to conserve energy and water. But crushing instead of reusing old buildings is inherently wasteful. On the LEEDS scale of earthiness, projects can also strive for gold or platinum status. Maybe there should be an even higher level -- diamond -- awarded to cities or businesses that decide not to build anything at all.
With energy prices soaring and the economy collapsing, there is a danger that the Santa Fe Community Convention Center will, like so many others, lose more money than it makes (please see Sweeney Center Blues). But it's here and it's beautiful. The city, fingers crossed, has a reason to be proud.

October 5, 2008
Continuing on its rampage, the All Indian Pueblo Council has destroyed most of what remained of the historic Indian School campus, leaving, at least for now, the Arts & Crafts Building (No. 341 on the campus map below). Unlike the other buildings, now in ruins, this is a John Gaw Meem original, completed in 1932, just before the rest of the campus was remodeled, under his direction, in the same Spanish Pueblo Revival style. That makes the building one of the most valuable, raising the possibility that the Pueblo Council has decided to spare it -- or, as a reader suggests, postpone its destruction for a grand finale.
As I walked by the campus this afternoon, it appeared that Building 307, now labeled PLANT MGNT BUILDING but identified on the map as the old bakery (constructed in 1908) may still be intact, but it was hard to tell amid the rubble.
Otherwise all that is left are the Paolo Soleri Amphitheater (No. 10), built in 1970 but listed as historically contributing because of its Neo-Expressionist style, and two newer "noncontributing" structures added in the 1960s: the Academics Building (No. 2) and the Delfin Lovato Administration Building (No. 1).
One of the justifications that apologists have given for razing the old buildings is that they were unauthentic -- "fake adobe." It's a stupid term, also applied by critics to Santa Fe's new Community Convention Center. It would make as much sense to call the White House, with its Palladian architecture, "fake Italian" or the neo-Gothic Woolworth Building in lower Manhattan "fake Goth." As Beverley Spears, one of the convention center's principal designers, writes in today's New Mexican, Spanish Pueblo Revival was invented a century ago. It has as solid a historical pedigree as, say, American Craftsman, or Prairie Style.
Yesterday, in an autumn ritual, I pumped out my rainbarrels to give the trees a final soaking before winter. But after last night's storm, the barrels are full again. Now that the clouds have cleared I can see snow up on Tesuque Peak. I'm glad I got up there last weekend to hike to Nambe Lake. Before long it will be snowed in.

October 13, 2008
A revised preamble to Santa Fe's new Long-Range Water Supply Plan, approved last month by the City Council. (You can read the real version here.)
Citizens,
We screwed up royally. Not just us individually but every city administration, present company included, for the last 25 years. We gave away the water to the developers and now it's gone. That is why the Santa Fe River flows only on rare occasions. It is why all those old cottonwoods have turned to matchsticks and why you are made to feel like criminals if you want to grow a little garden or, God forbid, wash your car. Every extra drop is needed by the Branches, the Chapmans, Centex and the gang.
The Buckman well field, which has been our main source of water, is shot. We've pumped that aquifer so hard that it's sucking in water from the Tesuque river basin. Stealing it, really. To keep this up we would have to buy more Tesuque water rights, some of the priciest on the planet. We just don't have the money. Hell, we can barely afford a functioning police department.
What we're doing instead is pinning our hopes on the Buckman Direct Diversion. You've read Staci Matlock's stories in the New Mexican: The water we've been pumping from the Buckman wells is our small share of what is called the San Juan-Chama Project. Four decades ago, the federal government blasted a hole through the Continental Divide up in Colorado to funnel down to New Mexico what was believed -- get this -- to be surplus water. It is diverted from the San Juan River into the Chama, which leads to the Rio Grande. As it crosses the Otowi Bridge and passes by the old ghost town of Buckman, it seeps down through the sand and we pump it back up.
Well, that's how it was supposed to work. In fact the seepage from the river never really did much to replenish the well field. Much of the water we've been pumping all those years wasn't really our own. We've been mining the aquifer. That's why we have to build the Buckman Diversion: to cut way back on the pumping and skim our San Juan-Chama allotment from the surface of the river. The water won't be as good, though we will have to charge you a lot more for it. And filtering out the mud will cause the city's energy bills to soar.
You've probably also picked up on this irony: despite these heroic efforts, we won't be getting additional water. By growing too fast, we've backed ourselves into a corner where we must spend millions of dollars to access, in a less ruinous way, what we are already consuming. It's actually worse than that. We won't even be breaking even. To make up the deficit we've incurred from all those years of overpumping at Buckman, we'll be forced to buy or lease more Rio Grande water. When it reaches Santa Fe it will trickle down and refill the Buckman aquifer.
Yeah, we know. In theory. Water is being dealt with purely as an abstraction. Paper water. You've noticed how a developer is allowed to buy water rights from Los Lunas or Belen, way south of Albuquerque, and "transfer" them to his subdivision here in town. The water isn't physically appearing in Santa Fe of course. But that's the way the shell game works -- until the whole thing collapses.
The stakes are only going to get higher. The San Juan, which we're counting on for all that water, is a tributary of the Colorado River, the main conduit for Phoenix, Las Vegas, and Los Angeles. Because of the drought, it is at its lowest level in recorded history. There will be a fight for every drop. In a really bad year Albuquerque, Santa Fe, the Middle Rio Grande Conservancy -- all the users of San Juan-Chama water -- may have more paper water than what is actually in the river. That's when we'll be lining up in the streets to fill jerry cans from National Guard tanker trucks.
So that's about it. We've all been stuck holding the tab from all those years of lot splits, condo conversions, and new subdivisions -- the overdevelopment that has made a few of our constituents very wealthy. The rest of us will have to muddle through. Here, for what it's worth, is the plan.

October 24, 2008
Colorado Ice
Crossing the northern border back into New Mexico on Highway 285, I thought I spotted Tres Orejas, the three curves of rock sticking up from the Taos plateau like Obama's ears. But as I continued southward toward Questa the perspective shifted. Tres Orejas became Quatro Orejas and then Cinco Orejas -- or really Pseudo Orejas. I had been fooled again. The real Tres Orejas lay further down the road, a reminder of my eagerness to get home.
I had been in Golden, Colorado last week at the National Renewable Energy Laboratory for a magazine piece I'm writing about solar energy. Golden's historic downtown sits along Clear Creek, a real river with water in it and walking trails alongside. Just upstream the Coors Brewery (Est. 1873) belched steam into the air. But that was part of the charm. Golden is another of those places like Bisbee, Arizona that seems superficially like an alternative to Santa Fe. There are still some real businesses downtown, and a few steep blocks uphill the campus of the Colorado School of Mines overlooks the valley. I imagined the idyllic life of a professor living in one of the old Victorian houses and walking into town for dinner.
A mile or so eastward the bubble popped. Old Golden gave way to a swell of subdivisions, glassy office parks, big box stores, chain restaurants, and a luxury shopping mall. I might as well have been in Orange County, California.
It snowed in the mountains my last night there. Driving up and over the Front Range the next morning, I dodged snowplows before descending onto the flat open expanse that lies east of the Sawatch Range. The clouds were so low that I couldn't see the mountains. It was like driving through North Dakota. Fairplay, a ghost town aspiring to be a tourist trap, was entombed in ice. On the radio a country-western singer warned Coloradans that Obama would take their God and their guns away. I stopped for lunch at Buena Vista (pronounced "Boona Vista" in the local dialect), queueing up for a hamburger at K's Dairy Delite with hunters in orange caps and camouflage.
I've been worrying lately that despite the polls McCainPalin is going to rally from behind and win. Recently a Republican official in Bernalillo County was forced to step down for publicly opining that older Hispanics would never vote for a black man. The Spanish, he said, came to this country as conquerors, the Africans as slaves. For all its expressions of outrage, the Democratic Party is worried about the same thing, raising money for billboards in Taos and Rio Arriba Counties promoting Obama-Udall-Luján ("El Norte's Team") as a package deal. I spotted three of the signs between Antonito and Española, wondering if they could compete against the picture of an aborted fetus head displayed by the local Rock Christian Fellowship and crowning portraits of the three Democrats.
Continuing southward along the Rio Grande through the Taos Box, I listened to a public radio interview with an old-fashioned socialist who scoffed at the absurdity of Republicans' calling Obama "a dangerous leftist." Politically, the commentator noted, the candidate is closer to Richard Nixon than to F.D.R. As the country moves ever rightward we hear the same anti-government, anti-tax rhetoric from Democrats as we do from Republicans.
During the last two debates I kept hoping for Obama to break the frame, to defend his $3 million earmark for a new projector at the Adler Planetarium in Chicago as a perfectly admirable expenditure. "John," I imagined him saying to McCain, "each year thousands of Chicago school kids, including those from the poor neighborhoods of the southside, come to the Adler for their first glimpse of the stars." I wanted him to quote Justice Oliver Wendell Holmes: "Taxes are the price we pay for living in a civilized society." But his handlers wouldn't let him.
Back in Fanta Se, it was comforting to see all the Obama-Biden signs. But I'd feel more hopeful about the future if Democrats started talking like Democrats again.

October 27, 2008
Mr. Hillerman
Tony Hillerman, who died yesterday at age 83, taught the only good journalism class I took when I was a student at the University of New Mexico. He wasn't famous yet. "Dance Hall of the Dead" had just been published by Harper & Row, and I was swept away, like so many others, by a murder mystery set in New Mexico that hinged on the intricacies of the kachina religion, the conflict between Zuñi and Navajo culture, and an archaeologist (based some say on Frank Hibben) whose great discovery turns out to be a hoax.
It was 1973 or '74 and Mr. Hillerman was a journalism professor and faculty adviser to the Daily Lobo, where I was cutting my teeth as a reporter. It was his turn to teach a class called Editorial and Special Writing, and the textbook he assigned, hot off the press, was an anthology, "The New Journalism," that included pieces by Tom Wolfe, Hunter S. Thompson, Truman Capote, Joan Didion, and Norman Mailer. Great nonfiction, Mr. Hillerman taught us, draws on the same artistry and technique as great fiction -- except that it has to be true. You must bring people to life with words and paint the scenes they inhabit. For one of my first assignments I wrote a piece, published later in Harper's Weekly, recounting a night in the Abo Pass south of Albuquerque where I watched (ok, helped) a classmate -- a poet and eco-guerrilla -- cut down a billboard advertising a land development.
On some days Mr. Hillerman just told stories. Some were about crimes he had followed as a journalist in the late sixties, like the Tierra Amarilla courthouse raid and the Budville murders, which took place in a small town between Grants and Albuquerque on Route 66. The effect of these tales was the same as reading that anthology. We wanted to get out in the world and turn experience into prose.
I almost blew the final. We were supposed to marshal the skills we were acquiring and take our best shot at an essay or opinion piece. But my mind was elsewhere. My girlfriend had just dumped me (not the first time or the last). The night before the assignment was due I was up late drinking beer and spewing out pages of typewritten angst, which I submitted the next morning.
"A+" Mr. Hillerman wrote on top of the cover page. "You write better drunk than most students do sober."
That was all the encouragement I needed. A decade later he sent his congratulations when my first book, Architects of Fear, was published. When I was working in New York, I tracked him down at the 92nd Street Y, where he was giving a reading with Don Delillo. Tom Wolfe was the emcee. Not long after when I wrote Fire in the Mind, Mr. Hillerman was kind enough to give me a blurb for the book jacket.
The last time I saw him was at the Los Angeles Times Festival of Books in 2005 where he received a lifetime achievement award. The table where he was signing books was too swamped for conversation (mine was vastly quieter), but the next day I encountered him and his daughter Anne at the airport where we were booked on the same Southwest flight to Albuquerque. I'm not sure how well he remembered me, but he was happy to meet up with an old student. While we waited for the plane we talked for half an hour about writing and New Mexico. Then came the boarding call and he was gone.

November 10, 2008
One or Zero
Last week I was in Cambridge, Massachusetts giving a talk at Harvard Observatory about the subject of my book Miss Leavitt's Stars, and the week before that I was in Bloomington, Indiana moderating a panel of renegade scientists and mathematicians who consider the laws of the universe to be calculations carried out by a cosmic computer. In this "digital physics," the seamless differential equations of calculus are replaced by algorithms shuffling bits. The implication is that reality itself is made from 1s and 0s.
Bloomington is an idyllic college town -- "Breaking Away" was filmed there -- with a campus of limestone buildings surrounded by maples, turned a deep raging red by autumn. On Halloween night I walked a few blocks through the crisp air to my friend Douglas Hofstadter's house. When I arrived he was laying out candy for trick-or-treaters. After talking awhile about his newest book, I Am A Strange Loop, we drove to a local Mexican restaurant, picked up three dozen takeout dinners, and delivered them to a downtown storefront where volunteers were manning telephones and laptops for Obama. Doug was doing his part by donating food from various ethnic restaurants, a welcome relief, the young coordinator said, from the usual cardboard pizza. The volunteers' work paid off. Obama just barely carried Indiana.
I'm back in Santa Fe now, hunkering down for winter and the coming Depression. For a moment this fall, I thought that Garrett Thornburg had played the economic collapse to his advantage. The stock of his company, Thornburg Mortgage, which had been languishing around 30 or 40 cents a share, suddenly jumped as high as $3.79, almost half what I'd paid about a year before. Maybe the Wizard of Marcy Street had stabilized his house of cards and, with his competitors wiped out, was beginning to prosper. I'd forgotten, of course, about the 10-to-1 reverse stock split. Those dollars were now dimes. This afternoon the stock is trading at $1.10, the equivalent of 11 cents a share. If in an encore it falls and stays below a dollar, it will have to be split again, or else dropped from the New York Stock Exchange.
If there is anything good about these dark economic times, they have put a brake on real estate speculation. An ambitious condominium project on Paseo de Peralta near Washington -- across from the Wells Fargo bank -- was abandoned months ago. After scooping out half the hillside and erecting an ugly concrete retaining wall, the builders pulled out leaving a pile of dirt and a tumbleweed farm.
On East Alameda another development -- half a dozen tasteless casitas crammed onto a single lot and obscuring a John Gaw Meem Territorial -- stands unfinished and unsold. Adobe walls encased in insulating foam, rotting from ultraviolet exposure, are surrounded by a chainlink fence to keep out vandals.
Last week a band of graffiti goons spray-painted its way up the Alameda. Fabian Chavez, director of the Parks Department, quickly dispatched a crew to erase the damage. Another effect of the economic crunch is that services like graffiti removal might be cut back. Entropy would take hold, with Santa Fe's historic Eastside and Plaza taking on the appearance of an inner-city slum.
Along the south side of the Alameda, the river is dead dry. On Labor Day weekend, the city opened the floodgates with the intention, according to the Santa Fe Watershed Association, of "keeping it flowing for the next few months and possibly to the end of the year." Six weeks later, without explanation, the water was shut off again.
Maybe it's this gray weather. Today I feel enveloped by gloom.

November 21, 2008
Last week I flew to Las Vegas (more research for that magazine article mentioned earlier on this page) and spent four nights in Boulder City, a pleasantly spooky oasis just 30 miles east of the Strip. This is the only town in Nevada, the hotel desk clerk proudly told me, where gambling is not allowed. The old man at the Chamber of Commerce visitors center said the same thing. It was nice and a little eerie to walk into the lobby and be confronted by a piano instead of clanging, beeping slot machines.
After checking into a nonsmoking room that smelled like smoke (the hotel had been absorbing nicotine since the construction of Hoover Dam), I walked the empty blocks of Boulder City where Christmas lights already snaked around trees. The signs in the windows of the real estate offices clung to the delusion that there was still something real here to sell.
I found two pretty good restaurants, one run by Moroccans with chicken tagine and Evan's Old Town Grill, a Greco-Italian hybrid packed with retirees. A TV was mounted on each side of the bar, an antique vacuum-tube model and a newer flat panel with a greenish hue. Centered over the bar's mirrored backdrop -- the reflections doubling the bottles -- was a shelf with a Grecian urn flanked by a flask of Glen Livet and other high-end neurotoxins. At the next table a young couple endured dinner with one of their moms and dads. The boyfriend had a goatee and baseball cap with sunglasses propped upside down on the bill. That vacant desert rat look. I kept thinking of Sarah and Todd Palin and their future son-in-law.
The next day I saw another just like him. I was driving south on US-95 listening to a local Fox radio show with Heidi Harris, a shrill, stupid Rush Limbaugh wannabe. There were ads for Legal Eagle Financial (experts in foreclosure avoidance) and 24/7 Private Vaults: "We don't loan your money to corporate CEOs so they can hold lavish parties for themselves and then say, 'Oops, we don't have any money . . .'" The Dow, in freefall, dropped another 400 points, and a public service spot offered listeners a referral number for opiate addiction treatment.
When I got to Searchlight, population 576, I drove up and down the streets trying to imagine what it would be like to actually live there. Behind one of the houses was an abandoned garage with a sign for some failed enterprise, Javalina Cantina. There was a Surprise Street. I learned later that Searchlight is the hometown of Senator Harry Reid and Edith Head, the costume designer who exists as a credit on the tail of a million movies. Looking for lunch, I headed uphill toward a McDonalds sign, but it wasn't a real McDonalds, just a gas station annex. I decided to push on toward Needles instead.
It was at that gas station in Searchlight that I saw him. First an anxious young woman, who looked like she'd slept in a car, hurried between the gas pumps with a dog. Suddenly from behind came an empty can bouncing off the asphalt by her feet. Then he emerged -- the baseball cap, the goatee, the lupine eyes -- yelling and running, grabbing her by the neck like a kitten, violently urging her home. I should have done something. No one else did either. I got the feeling this happened all the time.
Farther on, as I skirted the electromagnetic edge of Los Angeles, the car radio caught another rightwing beacon, KFI, "50,000 watts pounding at your brain." Mine by then was hamburger.
Back home in Santa Fe, I read that a teenager was shot outside J.C. Penney at Villa Linda Mall (oh right, "Santa Fe Place") and that some poor soul camping up by Big Tesuque was attacked and robbed by gang trash in their "hoodies," playing out what they see on television, probably their only awareness of an outside world. In another incident, a hiker on the Dale Ball Trails was smacked in the head with a rock by a crazy man.
And there was Kingsley Hammett, who died, presumably from a heart attack, while volunteering his time clearing brush on those same mountain trails. He was someone I wish I'd known, the author of Santa Fe: A Walk Through Time, a magnificent photographic account of how it was here before the city was kneecapped and commoditized.

on to Part 56. Santa Fe Indian School, Inc. . . .
Coming soon: A trip to the Railyard . . . The affordable housing "carrot game" . . . Surreal estate . . . Mansion watch . . .-->

A Special Report: The Mysterious Destruction of the Santa Fe Indian School

The Tom Ford Webcam (stolen July 7, 2008, back online July 17)
The Andrew and Sydney Davis Webcam
Who Owns the Plaza? (this may take a minute or so to load)
A Stroll Along Shirley Maclaine Boulevard
---
The Santa Fe Review


subscribe to the RSS feed
More links:
See the current flow of the Santa Fe River above McClure Reservoir with the USGS automated gauge.
The Otowi gauge shows the flow of the Rio Grande north of Santa Fe.
Santa Fe water information, a collection of documents and links