The Santa Fe Review

A Journal of Commentary and Reportage
copyright 2008 by George Johnson
Dispatches from the Land and Water Wars
updated 12/31/08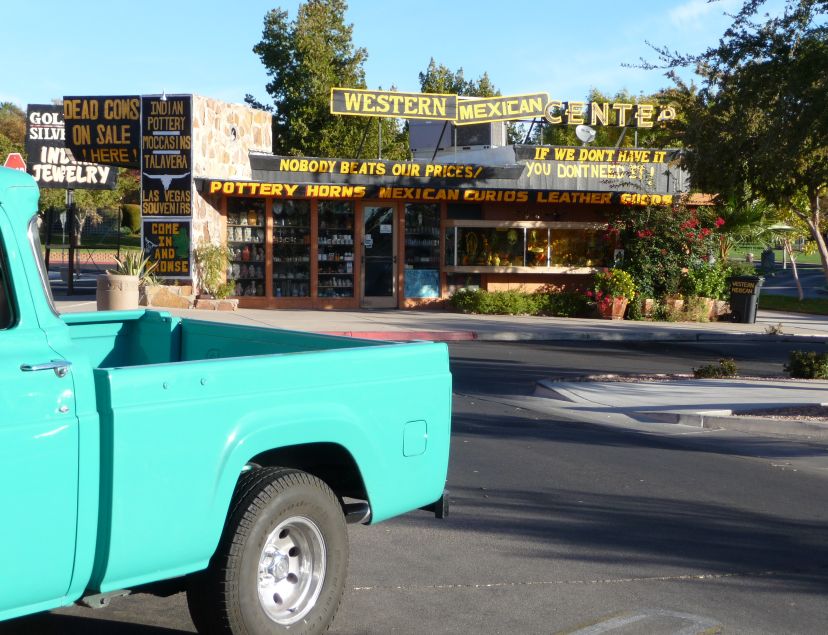 Boulder City, Nevada. photos by George Johnson, copyright 2008
November 27, 2008
56. Santa Fe Indian School, Inc.
On the rare occasions that they stooped to speaking to the outside world, the overseers of the demolished Santa Fe Indian School campus insisted that they had no immediate plans to rebuild. "It's going to be a long process before any major development takes place -- if any," Gil Vigil, a representative of the All Indian Pueblo Council, told KSFR back in September. "It's going to be probably a series of planning that we're going to be doing, so it's going to be awhile."
Judging from a column by Zane Fischer in this week's Reporter, the process is already under way.
He has procured -- we don't know from where -- what appear to be plans for a major commercial development -- including (just what Santa Fe needs) a massive new hotel. The Pueblo Council's partner, Mr. Fischer reports, may be an outfit that was run by Marc Schiff, before he pled guilty last year in the Albuquerque courthourse kickback scheme. If allowed to go forward -- and who's going to stop it? -- the enterprise would utterly change the character of the old Cerrillos Road corridor.
The Congressional act putting this federal land into trust for the welfare of the pueblos prohibits a gambling casino, and there is another restriction:

	LIMITATION FOR EDUCATIONAL AND CULTURAL PURPOSES.
	The land taken into trust shall be used solely for
	the educational, health, or cultural purposes of
	the Santa Fe Indian School, including use for
	related non-profit or technical programs, as
	operated by Santa Fe Indian School, Inc. on the
	date of the enactment of this Act.

The intent of the passage is obvious -- classroom buildings, maybe a museum or a student clinic. But the Pueblo Council will probably argue that anything that makes money for the school contributes to "educational, health, or cultural purposes." Mr. Vigil hinted as much in his interview with KSFR: "If we do develop, it would be for us to become self-sufficient so that we won't rely on outside funding like the federal government or other areas." (Having said that, he quickly added, "I think it's still important that we utilize their funding but it also gives us an opportunity to look at other venues." This is called, in the vernacular, having your cake and eating it too.)
The fact that zoning prohibits commercial use of the site is probably irrelevant. Our city leaders acquiesced -- over the objections of some of Santa Fe's top lawyers -- when the county insisted that its towering new judicial building on Guadalupe Street was exempt from zoning laws. And they were silent throughout the demolition of the old Indian School.
With Santa Fe's economy reeling from the new depression, maybe the mayor and council will be more vigilant this time. An Indian-owned enterprise would compete with local businesses and, as Mr. Fischer notes, might not have to pay sales or lodger's tax.
That depends on the cloudy legal status of the campus, which through a bureaucratic sleight of hand has been shunted into a netherworld where, we are to believe, no one bears the obligations of ownership or is bound by law. Earlier this fall I wrote a letter to the Inspector General of the Interior Department seeking clarity. Two months later I've received no reply.

December 3, 2008
Maybe Gil Vigil was kidding last summer when he boasted to Kathryn Flynn that he and his cohorts on the All Indian Pueblo Council would probably build a casino on the grounds of the Santa Fe Indian School. Ms. Flynn, readers may recall, is the executive director of the National New Deal Preservation Association, and she had asked Mr. Vigil for permission to see the W.P.A. murals painted by Indian artists on the walls of some of the old buildings.
He told her not to bother, that the buildings would be destroyed. In a story by Doug Mattson in this morning's New Mexican, she describes their conversation:

	"What are you going to do with that space after mowing everything down?"
	"Well, we'll probably build a casino."
	"You're going to do what? You got to be kidding me."
	"Well, we're taking about it."
	"Do you realize what that would do to Cerrillos Road?"
	"That's not our problem. That's the city's." 

A casino, of course, would be illegal, but then so was the demolition of the old school.
Four days later, apparently regretting his words, Mr. Vigil asked for a meeting: "Basically, he was telling me not to tell anybody," Ms. Flynn remembered. "I think he said something to someone, and they said you better go shut that broad up."
We don't know Mr. Vigil's side of the story. As usual, he couldn't be reached for comment.

December 6, 2008
Thornburg
As recently as Thursday, you could type the ticker symbol "TMA" into the Google search box and sound the depths Thornburg Mortgage has sunken to. A zigzag chart of the stock price appeared on top of the search results. What is left now are links to the Texas Medical Association, the Tennessee Medical Association . . . and the Turnaround Management Association, which is taking registrations for its "2009 Distressed Investing Conference" at the Bellagio in Las Vegas. Thornburg has been dropped from the New York Stock Exchange.
Trading now on the Pink Sheets Over-the-Counter Market -- this is rock bottom, a rung below the Over-the-Counter Bulletin Board and half a rung above bankruptcy -- Thornburg is going for 19 cents a share. Dividing by 10 to account for the stock split, that's less than two pennies.
Since the City Council issued $45 million worth of industrial revenue bonds last year to help Thornburg build a corporate campus on the outskirts of town, the stock has dropped more than 1,000 times in value. Construction mysteriously continues. Early this afternoon, the 100,000-square-foot complex appeared all but complete. Even the landscaping is in place. The 14-foot-high windows of Garrett Thornburg's empty office stared east at the Sangre de Cristos. Before long it will be moving day.
It's a mark of my financial ignorance that I don't understand this. I know that the mortgage company is just half of Mr. Thornburg's holdings. As recently as September, Thornburg Investment Management was presiding over $43 billion through its mutual funds and institutional portfolios. But that number has to have fallen drastically.
The move, if it goes forward -- and we're given no reason to think that it won't -- threatens to devastate downtown. In this contracting economy, all of Thornburg's old office space will be dumped onto the market. There will be more than 300 workers no longer buying lunch and lattes. At least it will be easier to park.
I've just finished reading the first volume of Arthur Schlesinger's trilogy, The Age of Roosevelt, which leaves off at the beginning of the Great Depression. So far the author has left me thinking that Mayor Coss and the Council did exactly the right thing in going ahead with the scheduled increase in Santa Fe's living wage. Many historians make the case that a precipitating factor of the Great Depression was low wages. Too many workers could not afford to buy the products they were making or selling. It was the New Deal that established a national minimum wage.
There are contrarian views. Even after the disaster caused by the deregulation of almost everything, some Santa Fe business owners called Friends of Capitalism (their president works for Thornburg) are blaming their troubles on local government rather than Wall Street. They worry that the Chamber of Commerce isn't rightwing enough.
They're less concerned, apparently, about the public subsidies store keepers are getting from free downtown parking during the Christmas shopping season and the millions of tax dollars spent on advertisements to lure tourists. They don't complain about the handout Thornburg received in the form of those industrial revenue bonds. Unleash the markets and all will be well. There are people who actually believe that, in Santa Fe near the eve of 2009.

December 18, 2008
Ballad of a Sad Cafe
This spring Christopher Leinberger, an urban planner/developer who was a driving force in the early days of Santa Fe's Railyard plan, published a piece in the Atlantic Monthly called The Next Slum? He wasn't talking about inner-city warzones in Baltimore or Los Angeles but about newly minted suburbs with names like Windy Ridge (northwest of Charlotte, North Carolina) and Franklin Reserve (near Sacramento, California). Completed just as the housing bubble was beginning to deflate, homes in these middle-class enclaves were sitting vacant. Weeds and graffiti were spreading, and crack heads, homeless people, and gangs were moving in.
The problem was not just the U.S economy (which was pretty good when Mr. Leinberger wrote his article) or even the subprime mortgage bust. "The story of vacant suburban homes and declining suburban neighborhoods did not begin with the crisis, and will not end with it," he wrote. "A structural change is under way in the housing market -- a major shift in the way many Americans want to live and work." Weary of commuting and high gas prices and longing to be where the action is, people have been migrating back to town.
It was in the spirit of this new urbanism that dense "villages" like Aldea de Santa Fe promised to capture the charm and convenience of a small town, but with one important difference: Instead of locating their project downtown, the developers of Aldea made for the boonies where land was cheap and then tried to recreate an urban environment from scratch. Pack in enough townhouses, condos, and "live/work lofts" and the excitement would follow -- the restaurants, groceries, bakeries, theaters, galleries, bookstores.
"Picture a brand new Canyon Road-Acequia Madre neighborhood, complete with tiny streets and residents outside talking and walking to the market," the New Mexican enthused back in 1997 when Aldea, then called Frijoles Village, was seeking the zoning variances it needed to stuff so many houses into so little land. The way the project was promoted one might have thought the developers, invariably described as "14 families," were banding together for an experiment in communal living. There was talk of a Center for Visual Communications offering "master's degrees in advertising design, computer media, environmental design, film, graphic design, illustration, package design and photography." Living in Aldea would be like living in a flat-roofed Ann Arbor, a sophisticated college town.
That is not what happened. On a recent Sunday morning as I walked Aldea's lifeless streets, counting the empty spec houses and "For Sale" signs, the place had the feel of a newly constructed ghost town. One street, Arroyo Privado, was private indeed -- at least 10 of its townhouses were marked for sale. "Astonishing Low Price" promised a blue-and-yellow sign. I looked up the listing when I got home. Half a million dollars.
Aldea's "neotraditional" town plaza ("all the charm of Santa Fe in a village setting second to none") was as deserted as a set in a Clint Eastwood spaghetti western. Nothing was happening in the community center, its Christmas electrolitos rattling in the wind. The website calender of public events ("What's Hot: Latest News") hasn't been updated since October 2007 when there was the First (and presumably last) Aldea Plaza Harvest Festival.
Walking into the only retail business, Cafe Aldea, I felt anxious, like a stranger swinging through the doors of a backwoods saloon. One of the customers (there were only three) looked up from her laptop and stared. You're not from around these parts are you, stranger?
The friendly cafe owner -- from India, I think -- perked up when he saw I was carrying a real estate map I'd picked up from a dispenser outside. "Are you looking for a house?" I wondered if he wanted to sell me his.
"Just walking around," I said.
"It's very quiet," he assured me.
"Maybe too quiet," I said. He laughed uncomfortably. It was a nice little restaurant/deli, and I felt bad leaving with only a can of Coke Zero.
Back outside, the only other traces of economic life were placards for a holistic practitioner and two real estate satellite offices (Barker and Santa Fe Realty Partners). The sole occupant of the live/work lofts around the plaza was their designer, Comet Studios, which also maintains Aldea's website.
There were no graffiti or broken windows yet, and I enjoyed the silence and the expansive views. I exchanged greetings with a man washing the windshield of his Mercedes and nodded to a young couple with a stroller and a dog. But I left feeling doubtful that Aldea will ever be a town.
The reason most people want to live in the outskirts is so they can have a house on a spacious lot. They trade off boredom for privacy and a fat cushion of land. Or they give up the space and the quiet for the vibrancy of the city. What Aldea de Santa Fe offers is the worst of both worlds.

December 24, 2008

December 28, 2008
Another Christmas Eve
You might have thought from the flashing red and blue lights on the police cruisers cordoning off Canyon Road that there had been a toxic chemical spill. There must be a less obnoxious way to keep cars out of the neighborhood for the annual Christmas Eve farolito walk.
"Union Pro-tec-teeva -- what's that?" said a loud voice behind me as I rounded the corner of Acequia Madre and Camino del Monte Sol. "Must be some kinda union." You could tell she didn't consider that a good thing. I started to explain that La Union Protectiva de Santa Fe was a mutual support society, almost a century old, started by neighbors to help one another with burial costs. But the moment passed.
"Everything's closed," complained a young blonde walking up Canyon, like she was expecting a last-minute shopping opportunity.
To bypass the hordes of revelers -- some texting Christmas greetings on their cellphones -- I cut up Gormley Street to Acequia Madre. It was a little more peaceful, and the display at the school was as pretty as ever, disrupted only by a high-tech exhibitionist projecting tiny blue fiber-optic laser lights into the trees. Any other night it would have looked cool.
I was glad to arrive at the Plaza and find it all but deserted. I listened to my wife sing a solo (Handel's "Let the Bright Seraphim") at First Presbyterian then ducked out the backdoor before the religious part began. I warmed up at La Fonda's Fiesta Lounge with a glass of wine and the Bill Hearne Trio. In the hotel lobby I spotted Colonel Hawthorne with his long, white beard regaling a couple of tourists with memories of Oppenheimer and Los Alamos and complaints about the financial crisis: "It's not a credit shortage, it's a cash shortage!" A genuine Santa Fe experience.
According to a column in yesterday's Journal by Dan Mayfield, the farolito walk ended badly with the Santa Fe police making "a slow, honking, sirens-blaring, crowd-parting, lights-blazing show-of-force," their crackling bullhorns ordering pedestrians off Canyon Road. Christmas Eve is all about crowd control.
Every year there are fewer farolitos. Most of the bonfires are lit by art galleries instead of neighbors, and there is a charge for hot cider. Maybe it is time to put an end to this over-produced "tradition" and see what springs up naturally to take its place.

Postscript
December 31, 2008
A letter in this morning's Journal complains about what the writer, Jack McCoy, calls "the overly aggressive police presence on Canyon Road this Christmas Eve."

	Our family prefers to take the farolito walk later in the evening
	to avoid the large crowds. This year, our walk was punctuated by
	the garish flashing lights and unholy racket blaring from police
	vehicles. Rather than having a pleasant walk on the road as
	usual, we were forced to take to the gutter to keep from being
	bumped by the parade of police cars. 

He goes on to describe people being arrested "for what amounted to 'public standing,'" and "dragged to jail on Christmas Eve." If that was the case I hope that both the New Mexican and the Journal police reporters will follow up.
After my previous post I heard from a reader that Galisteo's farolito display was beautiful and peaceful. I looked forward to checking it out next year with dinner beforehand at the Galisteo Inn. Then I read that the place is closing, putting 16 people out of work.
Happy New Year.

on to Part 57, The Anti-blog . . .

A Special Report: The Mysterious Destruction of the Santa Fe Indian School

The Tom Ford Webcam (stolen July 7, 2008, back online July 17)
The Andrew and Sydney Davis Webcam
Who Owns the Plaza? (this may take a minute or so to load)
A Stroll Along Shirley Maclaine Boulevard
---
The Santa Fe Review


subscribe to the RSS feed
More links:
See the current flow of the Santa Fe River above McClure Reservoir with the USGS automated gauge.
The Otowi gauge shows the flow of the Rio Grande north of Santa Fe.
Santa Fe water information, a collection of documents and links