The Santa Fe Review

A Journal of Commentary and Reportage
copyright 2007 by George Johnson
Dispatches from the Land and Water Wars
updated 9/22/07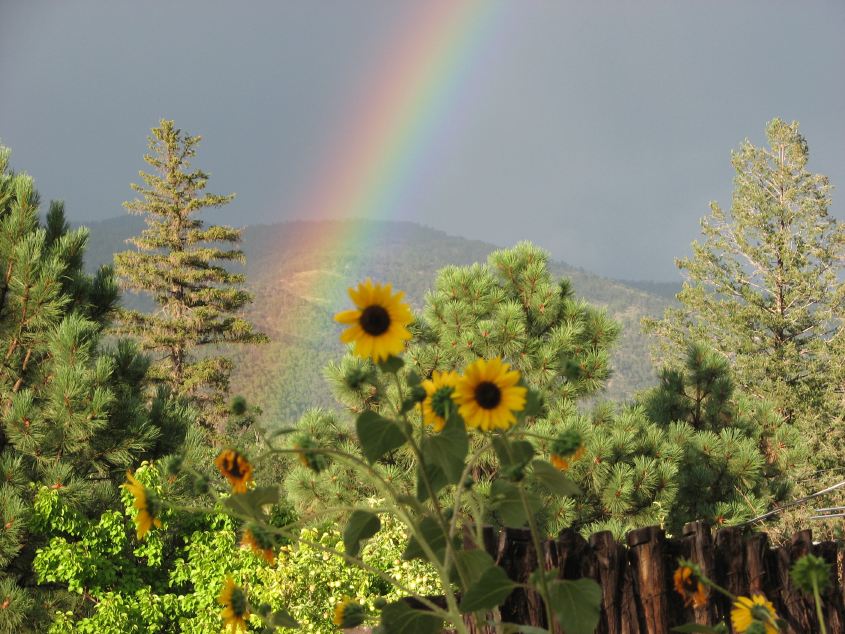 Rainbow, August 11, 2007, photo by George Johnson, copyright 2007
August 25, 2007
44. Before the Fall
Even some of the strongest opponents of Garrett Thornburg's plans to build his corporate headquarters on Ridgetop Road, where they were expecting instead a quaint village square, grudgingly called him a financial genius. A few, like Lew Pollock of Concerned Residents of Santa Fe North, have even owned stock in Thornburg Mortgage. (He sold it before he got invoved in litigation to avoid a conflict of interest.)
Last week after the share price plummeted to 7.65 (from a year's high of 28.40) my gut told me the sell-off was probably an overreaction. I rarely invest in anything riskier than 6-month T-bills, but a walk downtown confirmed that no one was jumping out of windows at Thornburg headquarters. That evening I went to the Schwab website and placed an order for 1,000 shares. The next morning I learned I had grabbed them at 8. If only I'd bought more. Currently the price is hovering around 13. If it gets back to 16 I'll probably sell.
Anything, of course, could happen. In recent days the papers have been reporting that Thornburg is the target of a class-action suit claiming that since October 2005 the company has been disguising its deteriorating financial condition with statements that were not just overly optimistic but "materially false and misleading." Late Friday another suit, by Wachovia Bank, was filed in United States District Court in Manhattan.
Maybe the tip-off that Thornburg was teetering was the surprising decision earlier this year to seek a tax bailout from the city (in the form of industrial revenue bonds). Still, I wonder how those claiming fraud will account for the fact that just before the crash Mr. Thornburg himself, figuring that his company's stock was undervalued at around 25, added another half a million shares to his portfolio, and Larry Goldstone, the president and CEO, bought 10,000 shares. (Imagine having a quarter of a million dollars to play around with.) Other company insiders also made large investments: As recently as August 7, Joseph Badal bought 5,000 shares at 21.95 and David Ater bought 6,500 at 22.37. In a column last week in the New York Times, Floyd Norris wrote that Thornburg's officers were betting that the subprime mess would kill off the competition and increase their own company's market share. Maybe that will still happen. And maybe the economy will collapse and the smart money will be in ammunition and freeze-dried food.
Mr. Norris also noted that Thornburg executives had "profited hugely" in recent years, and that "the company gets away with not disclosing how much the bosses are paid because it is managed by a separate company owned by some of the bosses."
Thornburg's deal with the city involves even more layers. The land for the new headquarters was purchased by a Thornburg-controlled company called Ridgetop Road LLC, which will issue bonds to another paper entity, Ridgetop Bondholder LLC. The secret of whether the new headquarters can still be funded lies bound at the center of an expertly tied gordian knot.
On a recent afternoon, looking after my small stake, I drove out to the building site. It was eerily silent, the backhoes and graders sitting idle and unattended. But apparently I had arrived after quitting time. A couple of readers who live in the area assure me that throughout the crisis construction has continued apace. From my new point of view as a stockholder, that is either an encouraging sign of confidence or a signal to sell.

August 28, 2007
Googling for the latest on Mr. Thornburg's listing ship, I keep seeing, at the very top of the page, a sponsored link: "Kaplan Fox Investigates Potential Fraud at Thornburg Mortgage, Inc." A quick look at the website confirms that Kaplan Fox is a New York law firm fishing for clients for another class-action -- I count three so far -- alleging that Thornburg misled investors. There is blood in the water and the sharks are moving in.
In King of Torts, John Grisham gave a fictionalized portrayal of the seamier side of the "mass torts" industry with the story of Clay Carter, a disillusioned young public defender who sells out to the dark side. By filing class-action suits against corporations that have stumbled, he blackmails them into huge settlements, skimming off fees that rapidly make him a multimillionaire.
The actions against Thornburg may turn out to have no more merit than the ones Mr. Grisham lampoons in his novel. But the suit by Wachovia Bank, mentioned in my previous installment, is another matter. Thornburg, insisting there had been a misunderstanding, quickly paid back the $5.1 million Wachovia said it was owed. But for the bank to have sued in the first place, it must have had serious concerns that Thornburg might fold.
Meanwhile a filing with the Securities and Exchange Commission shows that one Thornburg executive did sell a large block of stock -- not before the crash but after. Clarence George Simmons III (Clay, for short) came to Thornburg from (interestingly) Countrywide Financial Corporation in 2005 and is now senior executive vice president and chief financial officer. On Tuesday, August 14, he was forced by a broker's margin call (if I understand the SEC report correctly) to sell 35,009 shares, acquired over the years at prices ranging from the low to high 20s, for just 11.54 a share -- a loss of almost half a million dollars. That left him with 1,301 shares, not so many more than I have.
This afternoon the stock closed below 11. Ouch. Last week I could have sold at 15.

Short-term rentals
In Santa Fe's other big real estate story, Rebecca Wurzburger's attempt to legalize short-term rentals suffered a serious setback last night with both Mayor Coss and Chris Calvert joining Councilors Heldmeyer, Bushee, and Chavez to derail the bill. Making good on a campaign promise to protect residential neighborhoods from what amounts to unlicensed motel rooms, the mayor broke a 4-4 tie, postponing consideration of the issue until late November.
As expected Councilor Ortiz supported his old ally Ms. Wurzburger in trying to keep her proposal alive. He has said in the past that the issue doesn't concern his district -- tourists are not clamoring for vacation rentals in walking distance to Franklin Miles Park. He was joined, no surprise, by Councilor Dominguez, whose campaign was supported by developers, and (changing his tune) by Mr. Trujillo.
With the industry-friendly bill shoved off the table, Mr. Coss is expected to try to broker some kind of compromise. If that is not possible, according to the Journal (the New Mexican gave this important development only a news brief), he vowed to enforce the existing law:

	The priorities of this city are going to change. We should have
	started (enforcement) in 2002, and we didn't.

Now that sounds like a mayor.

September 2, 2007
Or maybe not. After reading through the short-term rental compromise Mr. Coss has been quietly floating around City Hall (here is a pdf), I am much less sanguine about his campaign promise to "only support changes to our codes if those changes provide for better protection of our neighborhoods."
Drafted by City Attorney Frank Katz, the proposal would forgive everyone who was breaking the law as of 2005 (the exact cutoff date is still under discussion) and allow them to continue doing so for another 10 years -- or until their property changed hands. In the meantime, the lawbreakers and their agents (Management Group, Kokopelli) would merely have to abide by the loose restrictions of the Wurzburger bill. What that means is that your next-door neighbor (or the corporation that holds the house in its investment portfolio) could engage in as many as 17 transient rentals a year. The $1,000 licensing fee Ms. Wurzburger proposed would be cut in half so as not to overly burden investors who have been illegally earning (according to Marilyn Proctor at Kokopelli) $20,000 to $80,000 a year.
As Mr. Katz suggested in an email to city councilors, his concern is not preserving the integrity of downtown neighborhoods but fending off legal action by those whose business plans include ignoring the law. Enforcing the short-term rental ordinance now, Mr. Katz opines, might constitute an unfair "taking" of what the malefactors have come to consider their property rights.
Another of Mr. Katz's creative legal theories is that the current ordinance, forbidding rentals of fewer than 30 days in residential neighborhoods, was actually intended to allow for what amounts to 12 transient rentals -- with no minimum duration -- every year. Here is what the ordinance really says:

14-6.2.A.6.a. In residential districts dwelling
units shall not be rented on a transient basis.

And here is how "transient" is defined in the city code:

14-12.1. An overnight stay of less than 30 consecutive days.

Contorting that unambiguous language to mean 12 one-night (or even one-week) stands is the kind of sophistry one might expect from a Karl Sommer representing real estate speculators, not from someone who is paid to look after the public interest.
Once again the message is that in Santa Fe there is no representation without litigation. Don't expect the government to protect your rights unless you can afford to sue. Through negligence or complicity, the city has allowed an illegal industry to thrive and is now moving toward accommodating it still further by down-zoning our neighborhoods into business districts. Forget about writing to your councilor or testifying at a public forum. In a world like this the only effective recourse would be a class-action lawsuit. Nothing less even registers on the radar at City Hall.

Postscript
Thanks to Mr. Katz for pointing out a typo in my original posting: I'd written "30" when I meant "12 one-night stands."

September 3, 2007
In his email Mr. Katz also explained the reasoning behind his interpretation of the current rental law:

	The lease has to be for 30 days. But no law says that the tenant
	is required to remain in the dwelling for 30 days. The tenant
	could rent for month but stay for a week, or, if really foolish,
	or rich, merely a night. This would be 12 rentals. 

So what we have is a mechanism that dishonest people can use to violate the clear intent of the ordinance.
Mr. Katz continued:

	Some cities have recognized this dodge and further refined their
	restrictions on short term rentals to cover renting for a month
	but where it is clear that the landlord and tenant intended the
	period to be shorter. (It wouldn't take too many instances to
	prove that intent.) But we would need to amend the ordinance to
	cover that dodge.


THE ENTIRE COMMUNITY&trade
Ever since Karen Heldmeyer announced last month that she would not be running for a third term on the city council, the realtors and developers have been licking their chops. The plan, of course, is to find a candidate who will pose as a reasonable, environmentally friendly guy or gal (remember Rick Berardinelli) then, once elected, join the effort to turn downtown Santa Fe into a high-end resort surrounded on all sides by something resembling Rio Rancho. In September's glossy Real Estate Guide (a monthly insert in the Sunday New Mexican) Denise Keron, executive vice president of the Santa Fe Association of Realtors (a major supporter of the Santa Fe Grassroots cartel in 2004) fires an early salvo.
Taking out of context the one mildly critical comment in my August 5 tribute to Councilor Heldmeyer, Ms. Keron denounces her as one of "the ugly uncooperative spirits [who] dub themselves 'saviors of the neighborhoods'" and calls for a council that will benefit "THE ENTIRE COMMUNITY" (all caps). Apparently it is not enough that the real estate industry already has three (often four) sure votes on the council. With just one more they will complete their control of the town. The column, amusingly entitled "It's time for a little cooperation," is not on the web, but you can download a copy by clicking on the shrunken version to the right.

September 4, 2007
Beavis and Butt-head Visit the Nature Preserve
Sunday morning I was walking around the Santa Fe Canyon Preserve thinking about Karen Peterson's editorial in the Journal lamenting the Coss administration's weak-willed efforts to combat graffiti vandalism. As I crossed the bridge at Canyon and Cerro Gordo, I saw that the spray-painted tags I'd reported weeks ago were still there. Now, encouraged by the city's inaction, some cretin had scratched his tag on several Nature Conservancy signs describing the history and ecology of the old Two Mile Reservoir. In Albuquerque, Ms. Peterson noted, citizens can quickly dial a three-digit graffiti hotline and count on the mess to be removed in 48 hours. Here the process is hit or miss.
Continuing on through the willow grove and past the limestone dam, I headed up the trail that traverses the north side of the preserve. More graffiti -- the illiterate loopy letters sprayed all along the sheet metal and concrete retaining walls, on rocks and a park bench, across the face of another sign: the words "Preserving Our Future" blotted out by someone without one.
In a story last week about another vandalism spree at Tierra Contenta, the Journal quoted deputy chief Benjie Montaño making the usual lame excuses: "There's no consequences," he said. "The kids know we can't book them." Lamer still is a plan by Councilor Dominguez to name yet another task force to come up with "innovative and proactive solutions" to the problem.
How many times have we heard this? The answer, as Ms. Peterson points out, is already clear:

	We've got an anti-graffiti department in city government now.
	Let's beef up the staff and get serious about removing tags --
	anywhere -- promptly. If the city responds promptly, citizens will
	be encouraged to report tagging promptly, too. If we need changes
	in the law to [take] taggers and their families to court in
	pursuit of fines, as they do in Albuquerque, then let's make
	those changes.

The last thing we need is another mural program or, God forbid, a city-sanctioned "graffiti park." (Actually we have two already. They're called skateboard rinks.) Take a look at what these Beavis and Butt-head wannabees did to the nature preserve and ask yourself: Is this the work of budding artists in need of a creative outlet?

September 5, 2007
I guess I was too quick to assume that the proposal on short-term rentals drafted by Mr. Coss's city attorney is necessarily the mayor's own. I was relieved to hear (in an email from Karen Heldmeyer) that he is distancing himself from the plan, which I described here on September 2.
Meanwhile the city continues to promote -- and act as an agent for -- illegal rentals on its official Convention and Visitor's Bureau Website. Click here for a list of purveyors and here to submit a reservation with the city's own online form. The bureau also now offers potential visitors a live chatline. I signed in and inquired:

	George Johnson: Is it possible to rent a casita in a nice, quiet
	residential area -- like Acequia Madre or Garcia Street?
	
	City Visitor's Bureau: This accommodation business does rent casitas,
	houses, condos, & short term rentals: Santa Fe Stay
	1-800-995-2272.  You could let them know what area of town and
	they will let you know if they have anything in that area.
	www.santafestay.com

I went to the Santa Fe Stay website and found several nightly rentals on Garcia Street and others on Acequia Madre, Camino Escondido, Johnson, Plaza Fatima, Delgado, Camino San Acacio, Rodriguez, Duran -- all in violation of the ordinance and recommended to tourists by the city government. I wonder if it gets a finder's fee.

September 8, 2007
"Clarifying" the Code
A new iteration of a short-term rental ordinance has emerged from the city attorney's office (here is a pdf) -- and it appears to be moving toward something resembling a compromise. In this version illegal rentals would be grandfathered only if they were operating as early as November 2002 when the city "clarified" its zoning codes. Otherwise the provisions look the same as in the earlier draft, except for the addition of two paragraphs making clear that violators -- and their agents -- are subject to prosecution in municipal court.
Wondering what it was that had been clarified back in 2002, I recently leafed through a tattered copy of the 1987 City Code at the public library. Then as now, the list of permitted uses and structures in R-zoned areas did not include vacation rentals or any kind of transient lodging. Prohibited outright were bed and breakfast inns, defined as "a dwelling unit that contains no more than 12 guest rooms where lodging, with or without meals, is provided for compensation" and residential suite hotels or motels ("an establishment with two or more guest rooms offering transient lodging accommodations . . .")
While short-term rentals were not specifically mentioned on the forbidden list -- neither were gasoline stations or dog-racing tracks -- the intent to keep commercial lodging out of residential neighborhoods seems clear. In any case, the code held, as it does today, that uses not expressly permitted are denied. (Imagine the chaos that would ensue otherwise.) Clarifying the code was simply a matter of stating in a less convoluted manner what was already true: short-term rentals are illegal, and they have been for at least 20 years.

September 9, 2007
In Sunday's New Mexican Paul Weideman writes about the continuing decline of the local real estate market. Just as revealing as the story itself is the shrunken size of the section in which it appears. Throughout the summer, as reported here in July, two pages formerly filled with real estate advertisements have been used instead for editorial copy -- the jumps from the cover stories and standing features like "Pets of the Week." Now another full page has been lost -- plugged with a house ad celebrating the fact that the New Mexican's entertainment weekly, Pasatiempo, won third prize in some contest.
Mr. Weideman's story notes that despite the fall-off in the number of sales, median housing prices have held steady and even risen a bit. But we have to take the word of the real estate industry. In New Mexico, unlike most states, sales prices are kept secret, misleading buyers into believing the market is hotter than it really is. Barring a change in the national economy, it's only a matter of time before prices here, like almost everywhere else, start sinking.

September 10, 2007
Thornburg Watch
As shown by the upbeat news stories last weekend about the official Thornburg groundbreaking, the company has been very successful in portraying itself as an innocent victim of a hit-and-run -- sideswiped by subprime lenders whose recklessness caused liquidity to evaporate in the commercial paper market. Lost in the telling is the reason Thornburg fell so hard: because it was leveraged to the teeth with a ratio of debt to equity, according to Business Week, of 12 to 1.
To get up off the ground the company has had to sell $20.5 billion of its assets at a loss of more than $800 million (enough money to build 20 Thornburg campuses) and borrow hundreds of millions more on terms that are the corporate equivalent of a subprime loan. More trouble may still lie ahead. Another class-action lawsuit was announced today, and in a recent filing with the S.E.C., the company made what sounds to my untrained ear like a nerve-wracking disclosure:

	Further, at September 30, 2007, we will be in violation of our
	covenants in our warehouse financing agreements related to our
	profitability over the prior four quarters. Our current warehouse
	lenders are currently aware of this situation and are continuing
	to finance loans on the warehouse lines. The Company intends to
	obtain waivers from these lenders. However, if the warehouse
	lenders were to decide to cease financing our unsecuritized
	loans, we would likely have to curtail new loan fundings until
	such time as we could re-establish warehouse facilities.

I'm not sure what that means but it sounds like another case of the company's future being tied, as an analyst put it, "to the whims of Wall Street lenders."
In other recent coverage TheStreet.com included Thornburg in a feature called The Five Dumbest Things on Wall Street This Week:

	Thornburg Mortgage (TMA - Cramer's Take - Stockpickr) operating
	chief Larry Goldstone recently made the following statement: "Our
	credit quality is among the highest in the industry, our assets
	among the most liquid of any financial institution, and our
	client orientation is without parallel in the mortgage industry."
	What did Thornburg proceed to do in the following weeks?
	
	A. Delay its quarterly dividend payment by a month.
	B. Sell a third of its mortgage portfolio at a loss.
	C. Raise $500 million in an offering of preferred stock yielding
	at least 10%.
	D. All of the above.

The answer, of course, is D.
Last week Mr. Goldstone was in the news again after buying 30,000 more shares of the company at 12.06.
Fingers crossed. The stock closed this afternoon at 12.29.

September 13, 2007
An update and a correction
In the end the short-term rental bill the mayor has decided to sponsor (with the help, surprisingly, of Councilor Chavez) is much like the one drafted earlier this month by City Attorney Frank Katz. (Here is a pdf of what was introduced at this week's council meeting.) In deference to the real-estate lobby, the grandfathering date has been moved up to 2005, allowing many more of the illegal businesses to survive.
There are two slight concessions: the licensing fee is set again at $1,000 (though operators who live onsite would get a discounted rate of $400) and language about prosecuting violators has been left intact. But why 2005?
Members of the short-term rental industry have contended that a 2002 cutoff would be unfair because they were not informed back then that transient rentals had been outlawed. But as argued here on September 8, nothing really changed in 2002. Vacation rentals were already illegal.
In one important way, the Coss-Chavez bill is an improvement over Ms. Wurzburger's: it would not allow for the establishment of any more of these businesses. Maybe in coming weeks the wording can be beaten into a less accommodating form.

I've received a spirited email from Denise Keron of the Santa Fe Association of Realtors assuring me that although New Mexico is a nondisclosure state, her organization does use actual sales prices (not asking prices) in computing the quarterly statistics. (Please see my posting of September 9. I have reworded the mistaken reference.) But I think my larger point stands: Although New Mexico now requires that sales prices be reported to county tax assessors ("partial disclosure"), the numbers are still kept from the public. It's basic economics that limiting the free flow of information distorts the market.
Ms. Keron also took me to task for improperly using the word "realtors":

	The New Mexico Real Estate Commission gives out
	real estate licenses to lots of people. NOT ALL
	LICENSEES ARE REALTORS!!!! So, lets' try to
	understand that, OK?

O.K.! I actually am aware of the distinction. REALTORS&reg are members of the National Association of REALTORS&reg . I just find the typography pretentious (I tried to poke a little fun at it here on September 3). Anyway the Oxford English Dictionary lists "realtor" (lower-case) as an accepted term for one who deals in real estate. Like Kleenex&reg and Styrofoam&reg, the word has come to be used generically.
Both REALTORS&reg and their lowlier counterparts, realty agents, have been trying to block a modest 1 percent luxury tax on house sales of half a million dollars or more. At this week's council meeting they got their way. Even their frequent ally Councilor Wurzburger was appalled: "I don't understand how someone can support the objectives we've had [better social services and affordable housing, for example] and not support this tax," she said. "I don't believe $5,000 will prevent something from being sold."

September 22, 2007
Beavis and Butt-head Visit the Hewett House

Coming one of these days: The Battle for Talaya Hill

The Andrew and Sydney Davis Webcam
Santa Fe Review Detours of the Wild West
---
The Santa Fe Review


subscribe to the RSS feed
More links:
See the current flow of the Santa Fe River above McClure Reservoir with the USGS automated gauge.
The Otowi gauge shows the flow of the Rio Grande north of Santa Fe.
Santa Fe water information, a collection of documents and links