The Santa Fe Review

A Journal of Commentary and Reportage
copyright 2007 by George Johnson
Dispatches from the Land and Water Wars
updated 11/8/07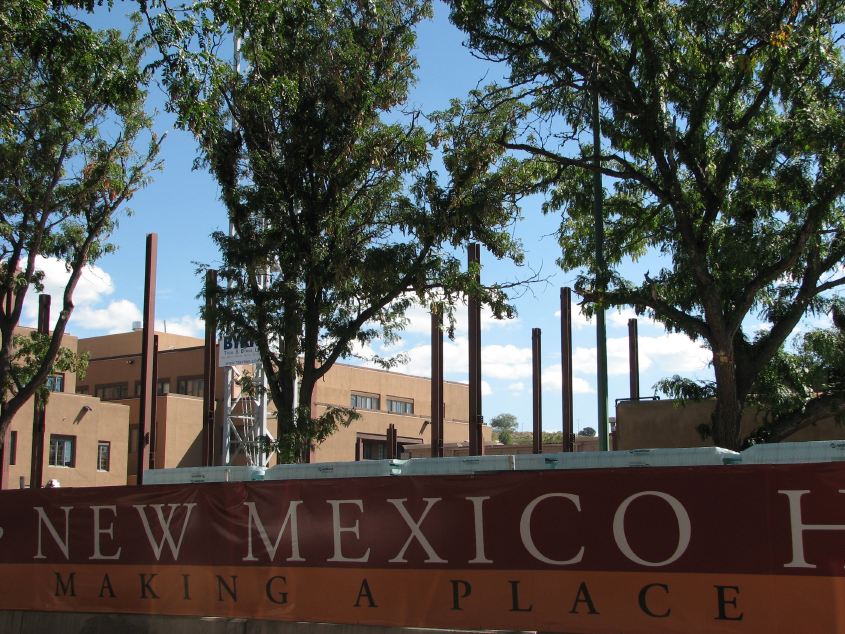 Lincoln Street, September 22, 2007, photo by George Johnson, copyright 2007
September 23, 2007
45. The Environmental Impact of Selfishness
On the short list of people whose love for Santa Fe helped make it such a special place is the late archeologist Edgar Lee Hewett. The founding director of the Museum of New Mexico, Mr. Hewett presided over the restoration of the Palace of the Governors and the establishment of treasures like the School of American Research and the Museum of Fine Arts. Fearful that the Southwest's magnificent Anasazi ruins would be destroyed by looters and general neglect, he pushed Theodore Roosevelt into signing the Antiquities Act, establishing a nationwide system of National Monuments that now includes Bandelier and Chaco Canyon. In fact, if Mr. Hewett had gotten his way, Bandelier would be several times larger, encompassing not only Tsankawi (the outlier near the town of White Rock), but the Otowi ruins in Los Alamos Canyon, the Puye Cliff Dwellings at Santa Clara, and everything in between. Cattle and lumber interests made sure that didn't happen.
A week ago some aspiring felons, who, it is safe to surmise, wouldn't have qualified to lick clean Edgar Lee Hewett's boots, climbed atop the portal of the historic Hewett House on Lincoln Street and defaced it with black spray-paint. The architectural landmark is on the national registry of historic sites making this literally a federal crime.
As Dan Boyd, the Journal's smart new city reporter, observed:

	From the looks of the vandalism, it wasn't a rush job. Whoever
	did the spray-painting left behind words such as "Pyro" in block
	letters several feet high.

The Museum of New Mexico, which owns the old house, has been in less than a rush to cover up the destruction. It's understandable that re-stuccoing a historic building takes time. But meanwhile why not obscure the mess with tarpaulins instead of displaying it like gallery art?
Over the same weekend, there was more criminal property damage a few blocks away on Galisteo Street, where two marble elephants at Seret & Sons were disfigured, also with black paint. As a security camera looked on, two vandals -- obviously adults -- spray-painted a delivery truck with the words "I shoot cops."
Incidents like these make me doubtful that another city-sponsored mural program is going to be of much help.
Elsewhere on the crime beat, Mayor Coss made his strongest statement yet against the proliferation of illegal vacation rentals:

	The number is growing while we don't do anything. It's
	time to put boundaries down and say 'this is it.'

City staffers have delineated nine options, ranging from outlawing all commercial lodging in residential neighborhoods (which is what the law already requires) to legalizing it outright. But as Mr. Boyd noted in the Journal, only two options are really on the table: enforcing the existing ordinance or grandfathering in some portion of the lawbreakers. The question still is which ones.
I'd hoped to find time all week to comment on the New Mexican's excellent series on water, which began last Sunday and was written by three of the paper's best reporters, Julie Ann Grimm, Staci Matlock, and Andy Lenderman. Here is a link to the package, which is must reading.

September 29, 2007
Back in March I described the jarring experience of admiring the soft evening glow of the northeastern foothills only to be slapped in the face by the flash from Andrew Davis's new picture windows. The sun, moving steadily northward, had aligned just so with his hilltop aerie igniting a glaring orange explosion.
As the earth continued in its orbit, the nightly flashes receded. Then six months later, with the solstice past, the conflagration returned with a vengeance. Here is a 14-minute video clip taken earlier this month from the Andrew Davis webcam (the building farther down the hill is the Santa Fe Institute):
The Davis family headquarters is so huge and imposing that it has become an astronomical phenomenon. Maybe it will create its own weather.
When I started this new page of The Santa Fe Review, I didn't have a title or a connecting theme. But now I see it: there is not so great a difference between vandals who deface a historic building with their spraypaint scribbles and multimillionaires who aggrandize themselves by permanently altering the skyline. The environmental impact of selfishness. Two different varieties of greed.
Continuing with this theme: there was an amusing piece in the Journal this week about a meeting co-hosted by Santa Fe's bumptious Chamber of Commerce. According to the report, business leaders complained about the difficulty of hiring new workers, blaming the problem in part on a lack of affordable housing. The article went on to note that the chamber is considering suing the city over its policy of requiring a certain number of affordable units in new housing developments.
The chamber also indicated, no surprise, that it plans "to help identify more business-friendly candidates" for next year's council elections. As chronicled here in the archives, the chamber was a major backer of the Santa Fe Grassroots candidates in 2004.
On a final note, a recent report that Santa Fe's population declined a bit last year was apparently too good to be true. The New Mexican gave a number of reasons to doubt the statistics, which contradict others from the U.S. Census Bureau. But one of the arguments didn't quite ring true. Reed Liming, director of the city Planning Division, noted that building permits for 650 new residences were issued last year. But how many of these are actually occupied? Units at the new Centex subdivision behind Lowes home center on Cerrillos Road are going begging, while out-of-state investors have been buying old family residences to use as part-time retreats or surreptitious b&b's. Maybe the lower density from this demographic shift is offset by all the illegal immigrants cramming into trailers along Airport Road. But it seems entirely possible for housing stock to grow at the same time that population is shrinking.

September 30, 2007
Saturday's sky
I didn't have my camera Saturday evening for that extraordinary sunset -- like nothing I have ever seen. The weird, unseasonal cloudburst came around 6:30 p.m. with the sun way low on the horizon and farther south than in monsoon times. The result was a double rainbow set against a soft orange-gray eastern sky. Earlier the fierce winds had filled the air with dust, which filters the blue wavelengths. That combined with the near-horizontal angle of the sunlight amplified the reds, giving extra bands of deep purple to the rainbows. And behind it all was lightning. Astonishing.

October 7, 2007
With the city council elections still five months away, a reminder of Santa Fe Grassroots-style politicking appeared today in a two-page advertisement in Section C of The New Mexican. "Help," pleads the headline. "If I can't afford to live in Santa Fe I can't teach in Santa Fe. Please tell your city councilors that the home tax will hurt us all by raising home prices throughout Santa Fe."
If you haven't heard of the "home tax," you're not alone. What the ad is really talking about is a proposed 1 percent transfer tax on the sale of houses priced at over half a million dollars. (Please see my posting from September 13.) In a city with high property values, relatively low property taxes, a deteriorating infrastructure, an increasing crime rate, and a widening gap between rich and poor, the levy -- simmering on the back burner at City Hall -- has been suggested as a way to support affordable housing programs. The likely alternative to this one-time tax on the sale of higher-end real estate would be increased annual taxes for everyone, including school teachers.
"Would you like some egg on your face with that waffle?" the advertisement cryptically asks. "On September 12 it was reported that the City Council voted to kill the Home Tax. Now they want it back." Actually the council simply decided not to put the proposal on the ballot this spring lest it compete with other initiatives.
The advertisement was placed by "Santa Fe Housing Opportunity Partnership, P. Pipkin, President." Pat Pipkin is the head of the Santa Fe Association of Realtors, which is also the registrant for the "partnership" website, stopthehometaxnow.com:

	Registrant:
	SFAR
	
	P.O. Box 23385
	Santa Fe, New Mexico 87502
	United States
	
	Registered through: GoDaddy.com, Inc. (http://www.godaddy.com)
	Domain Name: STOPTHEHOMETAXNOW.COM
	Created on: 22-Feb-07
	Expires on: 22-Feb-08
	Last Updated on: 04-Oct-07

The organization's homepage is even more misleading than its newspaper ad, giving the impression that the tax would apply to the sale of houses priced as low as $150,000.

October 14, 2007
I was in Arizona last week for an anthropology seminar, so I missed out on the entertainment provided by two more "home tax" scare ads. In these versions actors were dressed up as a fireman and a nurse -- more public servants who would supposedly be forced out of Santa Fe if a 1 percent transfer fee is levied on high-end real estate.
For practical reasons (please see the New Mexican story by Julie Ann Grimm), the City Council decided to further delay consideration of the matter. But it was clear that the advertisements had badly misfired. The president of the Santa Fe Firefighter's Association disavowed them, and Councilor Calvert complained about "dirty tricks and borderline unethical behavior."
Judging from last week's coverage, the instigator of the campaign, the grotesquely misnamed Santa Fe Housing Opportunity Partnership, is a front group for not only the local realtors' association but the Chamber of Commerce.
The same two groups are involved in the attempt to legalize commercial lodging in residential neighborhoods. In Friday's Journal Dan Boyd reported on a study by real estate broker Karen Walker that seeks to play down the impact of the illegal rentals. According to her figures there are only 275 of them in the entire city, a number she says has increased by just 16 in the last three years. As noted in the story, there are good reasons to be skeptical of such low numbers, but perhaps we should take Ms. Walker and her colleagues at their word. For months the vacation rental brokers have been claiming to represent a burgeoning multi-million-dollar industry vital to Santa Fe's economy. If there really are only 275 of these things, shutting them all down should cause barely a ripple.

October 16, 2007
I keep waiting for the New Mexican to pick up on the bizarre story in Monday's Journal about the mayor's appointment of a 19-year-old, who has yet to complete high school, to the city's powerful Planning Commission. Shayna Lewis, a team leader for the volunteer organization Youthworks, sounds like an admirable young woman. She was an obvious choice last January when Mr. Coss appointed her to his Youth Advisory Board. But the Planning Commission?
Santa Fe has no shortage of citizens with expertise in urban and environmental issues who could serve as a counterweight on a board that continues to topple to real estate interests. (There are 11 new lot splits on the agenda for the commission's next Summary Committee meeting.) A few years from now, Ms. Lewis might be ready for the big time. But first let her earn her GED and go to college.
Elsewhere on the development front, the air continues to whistle from Garrett Thornburg's balloon. Last week the company announced that it had lost $236 million more than previously reported when it was forced to dump $22 billion in assets to survive. Now its much-vaunted dividend, already postponed and reduced, has been suspended indefinitely.
In its announcement the company's president, Larry Goldstone, blamed the troubles on "investor perception, not investment reality." Thornburg was actually in great shape. The market was just to stupid to realize that. Hopefully it will come to its senses. The stock traded today as low as $9.72 a share, not much more than I paid for it.
Meanwhile Mr. Thornburg is putting the best possible face on things. Holding onto his spot in the Santa Fe social scene, he and his wife, Catherine Oppenheimer, are hosting a $250-a-person benefit at La Fonda for Valerie Plame's legal defense fund.

October 17, 2007
Postscript
The New Mexican's story this morning on Shayna Lewis, by Julie Ann Grimm, was worth the wait. While the Journal broke the news with a light-hearted feature, the New Mexican reports on the controversy. The mayor is right that it's good to have "just regular Santa Feans" on city boards. But there is something to be said for experience. After Mr. Coss's struggles getting rid of the worst of the planning commissioners (please see Mayor Coss's Lost Gamble), voters expected something better: heavy hitters with the political and intellectual ammunition to take on the problems caused by overdevelopment.

October 20, 2007
Simon Brackley, the president and CEO of the Santa Fe Chamber of Commerce, has sent a good-humored email objecting to my comments of September 29 about a Journal article that seemed to imply that his organization might sue the city over its affordable housing requirement. "There may well be other groups with such plans," Mr. Brackley says, "but the Chamber is not one of them." We (and presumably the Journal) stand corrected.
He also objected to my characterizing the chamber as a backer of the Santa Fe Grassroots candidates in 2004. But here, I think, he is splitting a rather fine hair. Though publicly professing neutrality, the chamber worked behind the scenes on the advertising blitz that reached a crescendo with the notorious Grassroots attack ads -- the most egregious piece of a pattern of campaign irregularities.

October 22, 2007
Dan Boyd of the Journal has scooped the New Mexican again with his story this morning about the latest proposal by Mayor Coss and Councilor Chavez to regulate vacation rentals in residential neighborhoods. Only owners who were operating as of 2002 would be grandfathered-in (the suggested cutoff had been 2005), and they would be allowed to stay in business for five (instead of eight) years to "amortize" their investments.
Whether the industry likes it or not, this is a generous concession. In City of Santa Fe v. PDR Development Corp. (120 N.M. 184, 899 P.2d 1138), the New Mexico Court of Appeals appears to have upheld the city's right to enforce its 1987 ordinance banning short-term residential rentals. PDR's condominium complex, on Paseo de Peralta and Griffin Street, was ultimately grandfathered (having begun operation in 1987, it squeaked in under the wire). It was later seized by the Resolution Trust Corporation during the savings and loan crisis. A more aggressive city administration could take Santa Fe v. PDR as justification to impose 1987 as the cutoff date for the new ordinance. Instead it has settled, for now, on 2002, when the zoning code was "clarified," making explicit that rentals of fewer than 30 days cannot properly be considered a residential use.
The industry's lawyers have been arguing, of course, that what happened in 2002 was not just a clarification but an imposition of new law, one that was not properly advertised. Unless all their clients are given a free ride, they threaten to sue. The PDR case makes that seem like a dubious threat.
There are still loopholes in the Coss-Chavez proposal that need to be examined: As noted here before, Frank Katz, the city attorney, has argued that the 30-day limit can be construed to allow 12 rentals a year -- with no minimum duration. In other words someone could rent out his house by the week, or even by the night, 12 times each summer. Or in the winter they could book it most every weekend as a ski chalet. That would be almost as disruptive for neighbors as living next to a b&b.
While we're on the subject of clarifications: Karen Walker called late last week to emphasize that the number 275 in her survey (please see my posting of October 14) referred only to short-term rentals in residential areas and not to the legal ones in commercial zones. I think that was clear from what I wrote:

	In Friday's Journal Dan Boyd reported on a study by real estate
	broker Karen Walker that seeks to play down the impact of the
	illegal rentals. According to her figures there are only 275 of
	them in the entire city . . .

But if anyone was confused, please take note.
In any case it is good to be reminded that there are dozens of legitimate vacation rentals that have been operating for years in areas like the Business Capitol District -- and whose owners are being financially damaged by competitors who break the rules.

October 23, 2007
After the New Mexican's irresponsible article last spring taking at face value the unsubstantiated claims of the anti-wireless activists, I would have expected Tom Sharpe's report today on "Electromagnetic Factors in Health," a panel held last weekend in Santa Fe, to serve as a corrective. But it's as bad as the earlier piece.
As noted here before, there is no credible evidence that the electromagnetic radiation we bathe ourselves in is harmful. The scare over low-frequency 60-hertz powerline radiation was debunked a decade ago (please see What Science Really Knows About Wifi), and at least three major studies, in the Journal of the National Cancer Institute, the New England Journal of Medicine, and the Journal of the American Medical Association, found no demonstrable health effects associated with the higher-frequency microwaves used by cell phones. Wi-fi works at just about the same frequency.
Disregarding all this, Mr. Sharpe allows himself to be used as a mouthpiece for a mishmash of pseudoscientific lore and conspiracy theory. The moderator of the panel even blames waves from her computer for seizing control of her mind:

	I felt attached to the field like ... I didn't have complete
	control over my own will.
	
	Some of you may have had a touch of this if you've ever been at
	the computer when it's getting late and you know you should pull
	yourself away, but you can't.

Oh, so that's what it was.
Since Jeff Tollefson decamped to Washington, where he now writes for Nature, the New Mexican has all but abandoned serious science journalism. Diana Del Mauro ably covers health and Andy Lenderman writes sometimes about doings at Los Alamos. But that has left an enormous vacuum in which nonsense like this resounds.

October 30, 2007
Since my last dispatch a week ago, much has transpired on the short-term rental front. In the coming days I hope to write about the most significant development: the emergence of Fred Rowe and Daniel Yohalem's Neighborhood Law Center. But first some finer points.
My neighbor Marilyn Bane, the former District 2 council candidate, has taken me to task for describing Karen Walker's survey as an attempt to play down the impact of the transient rental problem. Ms. Walker's intention, I am told, was only "to give as accurate an account as possible."
I have much respect for Ms. Walker, who has served the city on various boards and committees and was instrumental in drafting the home-rule charter. ("The good realtor," I've often called her.) But in this case I think there are reasons to doubt her objectivity.
In her unsuccessful mayoral campaign of 2006, she went on record as favoring a loosening of the ban on vacation rentals. Furthermore Ms. Walker is the realtor of choice for the developer Jay Parks, who has been responsible for some of the most destructive infill development on the Eastside, including at least two new luxury houses that were quickly converted into part-time tourist lodging.
Unlike some of her colleagues, Ms. Walker would probably never try to close a sale by alluding to the under-the-table profits to be made by illegal nightly rentals. But she, like her industry as a whole, has a vested interest in letting the practice continue.
I also received an exasperated email from Frank Katz, the city attorney (subject line: "There He Goes Again"). He was referring to a passage from my posting of October 22:

	There are still loopholes in the Coss-Chavez proposal that need
	to be examined: As noted here before, Frank Katz, the city
	attorney, has argued that the 30-day limit can be construed to
	allow 12 rentals a year -- with no minimum duration. In other
	words someone could rent out his house by the week, or even by
	the night, 12 times each summer. Or in the winter they could book
	it most every weekend as a ski chalet.

Mr. Katz objects:

	The ordinance that says one cannot rent for less than 30 days in
	a residential neighborhood means that you can rent 12 times a
	year for 30 days each. If your tenant for the month of January
	happens to stay for only a few days, you CANNOT re-rent for the
	balance of that month. So 12 times a year means ONCE EACH MONTH,
	not 12 two-day rentals bunched together. Are we clear now?

Well, I think so. What I thought he had meant, and I believe others did too, is that under the current law an unscrupulous landlord could pretend to rent for 30 days knowing that the customer really planned to stay for, say, three days at $300 a night. (Cheaper than Eldorado and with all that neighborhood charm.) When the property was "prematurely" vacated, nothing would prevent the landlord from immediately pulling the same trick. Thus his 12 artificial 30-day rentals could be squeezed into a much shorter span. If called on this, he could claim he had poor judgment in picking such mercurial tenants but no intent to break the law. As long as the city is tightening up the code, this seems like a loophole that still needs to be considered.

November 8, 2007
Before I came back to New Mexico 15 years ago, one of my favorite places to stay was an unpretentious lodge on East Palace called La Posada, whose main building was said to be haunted by a ghost. Later on my friend Stuart Kauffman, a scientist at the Santa Fe Institute, would meet me on the hotel patio to work on his book, At Home in the Universe, which is about the sciences of complexity.
I've written here before about how the grand old lodge was snapped up by a hospitality corporation and squeezed of its last drops of soul. Now, according to a recent piece in the New Mexican, La Posada has changed hands again. A Miami developer, the Gencom Group, will subject the place to yet another round of luxury renovation. Judging from the corporation's past projects, which include Rancho Mirage in California and resorts in Maui and the Bahamas, the idea is to snap up "distressed and under-performing hotels" and market them as "managed condominiums" for collectors of part-time residences -- another step in the conversion of Santa Fe into a parody of its former self.

on to Part 47, The New Urbanism Scam . . .
Coming one of these days: The Battle for Talaya Hill

The Andrew and Sydney Davis Webcam
Santa Fe Review Detours of the Wild West
---
The Santa Fe Review


subscribe to the RSS feed
More links:
See the current flow of the Santa Fe River above McClure Reservoir with the USGS automated gauge.
The Otowi gauge shows the flow of the Rio Grande north of Santa Fe.
Santa Fe water information, a collection of documents and links