Copyright 2005 Overland Partners, Inc. All rights reserved.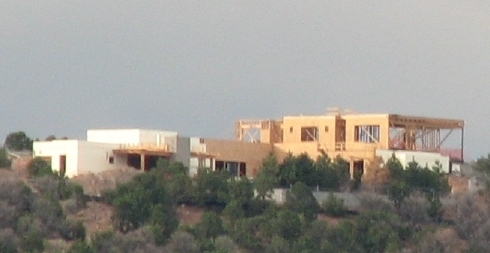 There is hope that when finally stuccoed, the 26,000-square-foot estate will be somewhat less obtrusive. But no amount of cosmetics, piñon vestments, or charitable donations can hide what one man with enough money and influence was able to do to Santa Fe's skyline.
August 6, 2006
The Sunday Papers
Russell Max Simon has written an astute evaluation of Mayor Coss's first four months in office (with priceless quotes from former Mayor Sam Pick) and a sidebar about the tensions between the councilors and the new city manager, Asenath Kepler. Mr. Simon, I've learned, is a recent graduate of St. John's College in Santa Fe. It shows in the quality of his analysis. His articles are accompanied by a sharp editorial about the Planning Commission debacle and Mr. Coss's low-key style: "[I]t's time the mayor studied up on Machiavelli. His opponents apparently aren't interested in nice."
Last Sunday's New Mexican (I've been meaning to write about this all week) was also a gem. We learned from Anne Constable and Bob Quick about how soaring construction costs are threatening other big Santa Fe projects, including the Museum of New Mexico annex -- another case of demolishing an existing building before securing a contract for its replacement. As with Sweeney, the result is a mudhole that may be with us for a long time. Maybe the state Game and Fish Department can stock it with carp.
Tom Sharpe also contributed a good story last week (with a followup today) about a dispute between the developers of the new Wal-Mart and the contract archeologist hired to survey the site. Most fascinating of all was a piece by Staci Matlock on water broker William Turner's scheme to acquire the rights to the water evaporating off Elephant Butte Lake. I hope to be writing about all of these issues in coming weeks.
Meanwhile, the recent rainfalls have swelled the flow of the Santa Fe River above McClure Reservoir to more than 15 cubic feet per second. The flow below the reservoirs? Zero. There are ways the river could be managed to keep it running most of the time. That will be the subject of a forthcoming chapter.

August 9, 2006
29. Councilors, Cops, and Russian Dolls
Whatever bad blood led to her shouting match with Karen Heldmeyer at the previous Finance Committee meeting, City Manager Asenath Kepler was ready last night to apologize. The occasion was a public hearing on the Coss Administration's last-minute request to meet what it called a staffing "crisis" in the police and fire departments by raising property taxes. The reason for the rush, Ms. Kepler explained, was that she had only recently learned of a state-imposed deadline of September 1. New to the job, she was still mastering city finances -- navigating the complications within complications that she compared to nested Russian dolls. Councilor Heldmeyer, still bristling, rejected the apology -- she wanted it in writing -- and some of the other committee members were just as prickly, even as one speaker after another (many of them officers) took the podium to support the cause.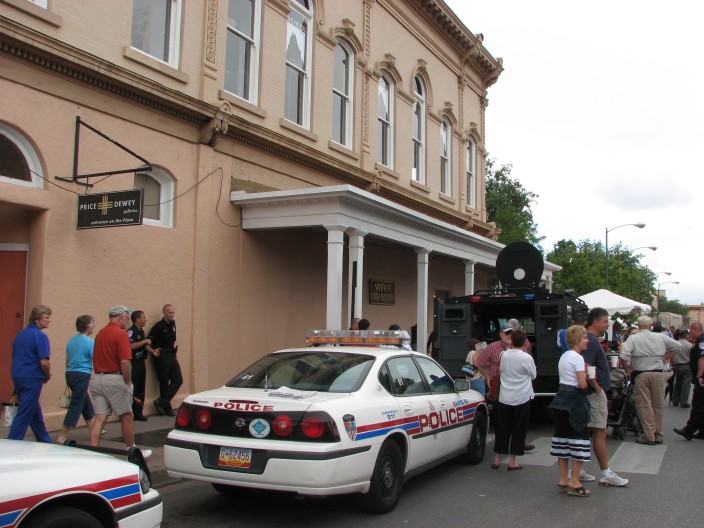 It wasn't surprising that Councilors Ortiz and Wurzburger were challenging the mayor, but he and Ms. Heldmeyer are old allies. For years they, along with Miguel Chavez and, less reliably, Patti Bushee, often voted as a bloc. Something has gone wrong.
A piece in this week's Reporter by Nathan Dinsdale and Dan Frosch describes the problem as a communications gap. Maybe it is also a case of sibling rivalry. Only four months ago, Mr. Coss himself was just another councilor. Now here he was springing things on his old comrades, making demands.
This seems like a reasonable one. Going purely by statistics, Santa Fe's police department is not drastically understaffed. Laura Banish, the former Journal reporter who is now the city's public information director, told me that with the much-discussed 19 vacancies the force is down to 136 sworn officers. The 2006 Santa Fe Trends report (pdf download) put the city population at 66,500. That comes out to almost exactly two officers per thousand residents. The most recent of the FBI's Uniform Crime Reports says the average ranges from 2.7 in the Northeast down to 1.7 in the West.
But a city with as many million-dollar houses as Santa Fe -- and with so low a property tax rate -- shouldn't have to settle for average. Beginning officers here make $5.50 less an hour than those in Farmington, $4 an hour less than in Hobbs (these are Ms. Banish's numbers). Even Clovis and Artesia are ahead. The result is high turnover, low morale, and a disproportionate amount of crime. Here are last year's numbers from the same Santa Fe Trends report:

CRIMES PER 100,000 POPULATION 

Homicide Rate: Santa Fe 6, other cities 4.3 
Reported Rape Rate: Santa Fe 84, other cities 35 
Robbery Rate: Santa Fe 102, other cities 141 
Burglary Rate: Santa Fe 1000, other cities 791 

Maybe the most revealing statistic would be how many officers per capita are on duty at any given time. I've not been able to find a figure for this, locally or nationally, so I'll end with an anecdote.
Saturday evening after a concert and dinner downtown, my wife and I were walking up Marcy Street, a block and a half from City Hall, when a red pickup truck came speeding toward the Plaza at what must have been 60 miles an hour. A few minutes later it came back around the block, like in a movie, with a white sedan in pursuit. No police cars were in sight. A call to 911 elicited nothing in the way of an obvious response. No sirens, presumably no arrests. As a veteran 1970s-era Nixon protester, I feel embarrassed calling for more law and order, but it's scary what people know they can get away with in this town.

August 14, 2006
Postscript: Municipal Meltdown
The scene to unfold at tonight's Finance Committee meeting is so predictable that it could be scripted in advance. One after another, police officers and firefighters will return to the podium to remind us that they are dangerously overworked and underpaid. Interspersed among them will be citizens decrying the state of our under-protected neighborhoods or else condemning the mayor's proposed tax hike as a fiscally irresponsible payback to the unions and a burden on elderly Hispanic Eastsiders huddling in crumbling adobe houses whose assessments have soared.
And while these are all ingredients of the mix, the larger, overriding issue will hang unexpressed in the air: that the public safety crisis -- or problem or whatever it is -- is part of a general breakdown in city services, the result of a decade of overdevelopment and shoehorned sprawl. Just as the city has let the river die to accommodate the real estate industry, so has it stretched municipal services so thin that Santa Fe is steadily becoming a less desirable place to live.
Semi-trailer trucks and air-conditioned tour buses roar through narrow residential streets polluting the air with their noise and fumes. (There is nothing pleasant anymore about lunch at an outdoor table on Canyon Road.) Trash bags sit on the street for days to be torn and scattered by coyotes whenever a single garbage truck breaks down or half the crew calls in sick. Recycling containers overflow because they are picked up only every two weeks (and who remembers which one?) Trees are planted in medians and left to die because no one will water them. Anyone who has tried to get a response to a complaint about weeds, litter, barking dogs, or wildcat vacation rentals knows it is futile. Sorry, we don't have the resources. Whenever City Hall approves or annexes another subdivision, the problems get worse. Each of us, except the developers, grows a little poorer.
Santa Fe, a world-class tourist destination, should also be a world-class place to live. That would be worth a few hundred dollars in additional property taxes, but not if the surcharge is just another subsidy for those who are profiting by turning one of the most special places in the universe into just another overbuilt, noisy town.

August 16, 2006
Police Beat . . . Water Watch
When Beverly Lennen was still chief of police, I asked her for statistics on how often drivers were cited for not having mufflers on their cars. She couldn't tell me -- there was a "software problem" -- but conceded that equipment violations are routinely ignored. Staffing shortages, she said. That was three years ago, and this "no can do" attitude is still what one hears when trying to get the police to pay attention to nuisance crimes -- each small in itself but cumulative, diminishing the quality of life.
The budget compromise hammered out earlier this week by the Finance Committee wasn't what the new chief, Eric Johnson, wanted, but it is a start. Now maybe the city can compile some hard numbers on how many cops we need on the beat and whether they are really so over-extended that they can respond to only the direst emergencies and most heinous crimes. Police cars are frequently seen stopped at traffic signals or parked along the Plaza, ignoring trucks spewing black smoke, motorbikes that sound like chainsaws, and rolling boomboxes that make the windows shake. Noise pollution is a matter of public health. A sad phenomenon in the next few years will be people in their 20s suffering from tinnitus, a ringing in the ears that never goes away. It is not just the drivers who are affected. Second-hand noise can be as harmful as second-hand smoke -- causing hypertension and other stress-related cardiovascular illnesses.
Left unaddressed, noise and air pollution are only going to get worse. Census figures released this week show that Santa Fe's population grew 6 percent between 2002 and 2005, almost as fast as the county's.
On a different issue, the Rio Grande Diversion took another step backward. After five months of discussions on how to share operating costs, County Commissioner Jack Sullivan proposed at the monthly meeting of the Buckman Direct Diversion Board going back to square one, drafting a plan for a new independent political entity that would manage the facility and sell water to the city, county, and Las Campanas. The details are in today's Journal. The New Mexican missed the story but quoted a water official who confirms a suggestion made here last month: that the estimated cost of the project is rising by six figures for every month it is delayed.

August 18, 2006
30. West Side Story
In what promises to be the fight of the century, or at least some good political entertainment, land consultant Jennifer Jenkins and ex-mayor Debbie Jaramillo are going head to head over a plan to subdivide a lot on Bob Street -- right across from the Jaramillo family home. The betting is that this time Ms. Jenkins, who shepherded the Tom Ford mansion through City Hall, is in over her head. She is representing a landowner who wants to put four additional houses on the 1.5-acre tract, arousing not only the fury of Ms. Jaramillo and her husband Mike, president of the neighborhood association, but also their son Angelo, who made his political debut last month by publicly berating Mayor Coss during a heated City Council meeting. (His parents, I later learned, were there in the audience cheering him on.)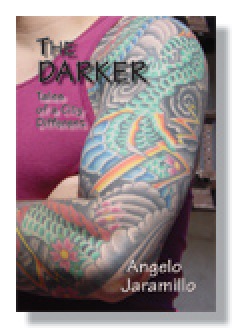 The young Mr. Jaramillo, whose articulate, improvisational tirades sound like something at a poetry slam, promises to be a particularly formidable opponent. At a neighborhood meeting last night with Ms. Jenkins, reported in yesterday's New Mexican, he decried the "out-of-control, run-amok development mentality that's infected Santa Fe for too long," while his father denounced the mayor as "Santa Coss," complaining about a new policy of issuing "over-the-counter" building permits. (He didn't seem to realize that this applies only to small projects like fences and decks, not to whole houses.)
It was another of those head-scratching Santa Fe moments. In the earlier fracas the Jaramillos joined the unruly crowd berating Mr. Coss for trying to oust developer-friendly Planning Commissioners. But the bad blood probably has less to do with differences over land use policy than with the explosive feelings that can arise when an old ally is left feeling betrayed.
During the recent campaign, Mr. Coss's big liability was said to be his brief and stormy history as Mayor Jaramillo's city manager, a job he was given after her brother, Ike Pino, was fired by the Council for -- remember this? -- appointing her brother-in-law, Carlos, as chief of police. Forced out six months later by councilors who felt he was keeping them out of the loop -- a complaint one now hears about his mayoral style -- Mr. Coss returned to his job as public works director, forging the strong union ties that helped him win this spring's election. Mr. Pino, by then a principal of Rancho Viejo, also contributed to Mr. Coss's war chest, and after the election the new mayor had to deny speculation, only half serious, that he would name Ms. Jaramillo as his city manager.
That would have been politically impossible even for the all-inclusive Mr. Coss, though the woman he did appoint, Asenath Kepler, is an old friend of the Jaramillos. She represented Mike, pro bono, in negotiations with the I.R.S. after his conviction on federal tax-evasion charges and later became Debbie Jaramillo's city attorney. Ms. Kepler's husband, architect Ed Mazria, was awarded, not without some controversy, two big city contracts, for Tierra Contenta and the Genoveva Chavez Recreation Center.
Maybe Ms. Jaramillo is bitter about not getting her own role in the Coss administration. Angelo is. During his philippic at the July council meeting, he complained that he had written to Mr. Coss asking for a Planning Commission appointment but never received a reply. He has been more fortunate with his literary career. His first book of fiction, The Darker: Tales of a City Different, is due out soon from Sunstone Press. It is described in the catalog as a work of "Kafkaesque emotion, Baudelairean delicacy, and Garcia Marquez dexterity," as good a description as any of politics in Santa Fe.

Coming Next: A Plan to Bring Back the River
Coming Soon: The Battle for Talaya Hill
The Andrew and Sydney Davis Webcam
Santa Fe Review Detours of the Wild West
---
The Santa Fe Review

More links:
See the current flow of the Santa Fe River above McClure Reservoir with the USGS automated gauge.
The Otowi gauge shows the flow of the Rio Grande north of Santa Fe.
Santa Fe water information, a collection of documents and links
(counter activated 2/20/04)