The Santa Fe Review

A Journal of Commentary and Reportage
copyright 2008 by George Johnson
Dispatches from the Land and Water Wars
updated 4/18/08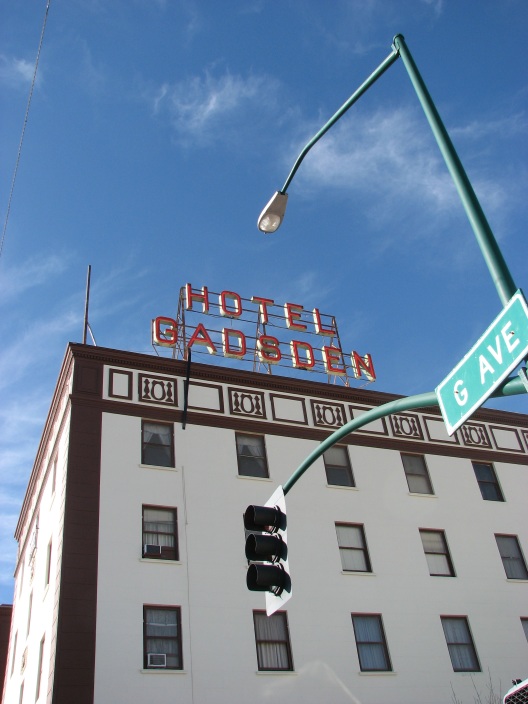 Douglas, Ariz., February 29. photo by George Johnson, copyright 2008
March 6, 2008
49. The Fall of the House of Thornburg
What a strange morning it's been waking to all this snow. Digging out today's New Mexican from its hole in the driveway, I learn that the short-term rental mess is still not resolved:

	Two property-management firms and a dozen out-of-towners who
	lease their Santa Fe homes to vacationers want a judge to nullify
	the city's new short-term rental rules.

Unbelievable. The city bends over backwards and rezones our neighborhoods for the benefit of these arrogant scofflaws, imposing only the mildest regulations, and still they feel aggrieved.
A small emendation to Tom Sharpe's lede: the owners of the two rental agencies, Charles Goodman (Kokopelli) and Janet Rousselot (The Management Group) are also out-of-towners. Ms. Rousselot lives in the village of Tesuque, while Mr. Goodman occupies a home in the hills off Old Santa Fe Trail, outside the city limits. No worries for them about having short-term rentals next door. They just expect the rest of us to accommodate their predation.
After shoveling my way to the office, I check my Thornburg stock: $1.33! My $8,000 investment is all but gone. With almost no tangible assets -- just paper backed by paper and a big hole in the ground on Ridgetop Road -- the company offers investors little hope of recovering much from a bankruptcy proceeding. The class-action investor suits, which I'd dismissed as ambulance chasing, are starting to seem more credible. I mean, how can a company that on February 16 was boasting about its robust financial health now be worth next to nothing?
"Our profit is going to escalate dramatically," Larry Goldstone, Thornburg Mortgage's president, predicted at the time. And Richard Shane Jr., the analyst at Jefferies & Co. who is always quoted as the expert on Thornburg stock, set a target price of $14. Today he cut it to $1.
Mr. Thornburg, it seems, was the most deluded of us all. Only a few months ago he bought a million more shares at $9.50.
Given all that, I don't suppose he's fretting too much about the bad investment he made in Martin Lujan's City Council campaign. Mr. Thornburg was hoping Mr. Lujan would defeat incumbent Miguel Chavez, who had the temerity to vote against the Thornburg tax subsidy last year. Though outspent by a wide margin, Mr. Chavez prevailed.

March 9, 2008
Speaking of Martin Lujan, no one in city government ever bothered to investigate the compelling evidence, unearthed by Julie Ann Grimm, that he was violating the law requiring a candidate to live in the district he seeks to represent. According to her recent report in the New Mexican, the Ethics and Campaign Review Board tried to look into the matter but were told by City Attorney Frank Katz that it didn't have the authority. (Whether the complaint was also beyond the purview of Mr. Katz's office was left unexamined.)
The Lujan case in itself seems good enough reason for the Mayor and other city officials to take Fred Flatt more seriously when he complains that the ethics board, on which he serves, is not effectively confronting campaign malfeasance. Instead they dismiss him as a crank.
In an op-ed piece today, Mr. Flatt lays out a persuasive case for more aggressive oversight. I'm sure the board members themselves are a selfless and vigilant bunch. The chairman, Fred Rowe, has done more than just about anyone to keep local government honest. The other members also deserve our thanks -- with the possible exception of Tom Fiorina, the disgraced ex-judge who was appointed by Councilor Ortiz to show his contempt for citizen oversight of political campaigns. (Mr. Fiorina has since resigned.)
But something is very wrong. The recent election was a huge improvement over the outrages of 2004, but either the board or the City Attorney's office obviously needs the power to investigate and prosecute violations.
In another op-ed County Commissioner Paul Campos repeats the tired arguments in support of the hulking new courthouse planned for Sandoval Street. Of course it is crucial that this institution remain downtown. And it may very well be the case that the building needs to be 52 feet high. But it doesn't follow that it should be exempt from city zoning laws.
Two of Santa Fe's smartest lawyers, Steven Farber and Fletcher Catron, believe that the county is legally required to go through municipal review. City Attorney Katz agrees. Knuckling under to the county's threats to move the courthouse to, say, the Santa Fe Outlet Center, would set an unacceptable precedent. If the county can justify the size of the building to the Historical Design Review Board, its members will surely grant the necessary exemptions. If not the county can appeal to City Council and beyond that to District Court. There is a legal chain to follow.
On the Thornburg front, an unidentified investor (or investors) stepped in during the final moments before the market's close on Friday to buy some 2 million shares, pushing the price up half a dollar from $1.29 to $1.79. Somebody, anyway, has faith in a recovery. In after-hours trading, the stock sunk back down to $1.35.

March 10, 2008
This afternoon, shortly after Thornburg Mortgage became a penny stock, dipping as low as 69 cents a share, I drove out to the site of its future $40 million headquarters. Construction was further along than I'd realized, and charging full steam ahead. A huge crane arched its neck over the rising walls as diesel engines rumbled and a legion of orange-helmeted workers scrambled below. With the company's market capitalization now down to $114 million (a fraction of the billions it was worth before groundbreaking), this bustle is either a sign of supreme confidence or of delusion.
Tomorrow, if the stock halves again, I'll be tempted to pick up more -- invest in the long-term. If there is a long-term. That's the dilemma. The bottom could very well be zero.

March 14, 2008
Mansion Watch
I've moved the Tom Ford Webcam to a different window to afford a glimpse of the construction tent Mr. Ford's contractor, Doug McDowell, wrote to us about earlier this year -- or actually what is left of the tent. Today's monstrous winds tore off the white envelope leaving only the metal frame. A trailer that peers out from the saddle behind the hilltop, where the mansion itself will stand, appears to be intact.
From the side of Atalaya the construction site, with all its portable buildings and trailers, appears to be quite an operation. As a friend on Canyon Road described it, "It looks like the circus has come to town."
Here is a picture I took last month from the Dale Ball trails.
March 19, 2008
Thornburg Watch
After surging briefly to nearly $3.50 a share, Thornburg stock plunged again this morning after the company announced a rescue plan that underscores just how desperate things have become. According to an AP story on the Forbes website, Thornburg will surrender more than a fourth of its stock -- 47 million shares -- to its creditors (one of which is Bear Stearns) for a penny a share and borrow $1 billion at a crippling 12 percent interest rate. That seriously dilutes the value of what the rest of us are holding, and the dividend will be eliminated again.
In a press release, Larry Goldstone, the company's president, touted the deal as "an unprecedented collaboration" that "illustrates the high degree of confidence our [creditors] have in the superiority of our origination franchise, the quality of our assets and the strength of our management team."
The market, however, took a dimmer view. By the time it closed the stock had dropped almost 50 percent.
Meanwhile the editorial page of the New Mexican carries four letters praising Thornburg as an innocent victim of a world gone mad. Two of these (spontaneous?) outpourings of support call for a state government bailout. It is true that the company is facing what is euphemistically described in the trade as "a challenging environment." But it wouldn't be flirting with bankruptcy if it hadn't been so highly leveraged -- like a borrower taking out a payday loan to make the monthly minimum on his Discover card. As part of the credit counseling agreement, Thornburg will be required by its lenders to keep $350 million in a "liquidity fund," cash for a rainy day.

Postscript
Judging from a depressing analysis on the Dow Jones newswire, the prospects for us saps who held our Thornburg shares is even worse than I thought. "Common shares will be worth pennies on the dollar as a result of the massive amount of dilution," an investor at a hedgefund predicts. "The value of the stock is wiped out."

	Another investor who declined to be identified said the lending
	pact was akin to a "cram-down," where a company struggling to
	keep afloat attracts new investors by introducing a new pecking
	order, squashing the claims of existing stakeholders.

How this is better than bankruptcy is not so clear anymore.
March 29, 2008
Rental Racket
Though the New Mexican considered it worth only a brief item (the Journal had a full report), the fact that only 185 property owners have signed up for short-term rental permits is surprising news. But is it good news or bad? City officials had expected some 750 operators of these "noncomplying uses" to seek protection under the grandfathering clause. When, through attrition, the number eventually fell below 350, more operators could apply.
Though the ordinance was a betrayal to everyone who, relying on the integrity of zoning laws, purchased a home in a residential district, neighbors had one small consolation: the devil you know is better than the one you don't. It would be a long time, if ever, before a new tourist lodge opened up next door. But unless there is a last-minute rush of applicants before tomorrow's deadline, that is exactly what may happen. Santa Fe's neighborhoods will be wide open for more commercial exploitation.
I can think of several explanations for the low turnout. Even the modest $1,000 permit fee and the prospect of having to comply with niceties like fire codes may have been enough to squeeze out the most marginal operators -- those sporadically renting to vacationers while they try to unload an unflippable house.
Another possibility -- has anyone checked? -- is that the two big agencies, Management Group and Kokopelli, who are suing the city over the new ordinance, are meanwhile refusing to comply.
Finally there is a chance that there really are far fewer of these things than most of us expected. (Remember the survey by Karen Walker?) If so then Councilor Wurzburger, sponsor of the legislation, may have known exactly what she was doing when she set the limit at 350 -- allowing room for this harmful and lucrative industry to grow.
The Journal also reports that the city, disturbingly but perfectly in character, is likely to respond to the lawsuit by weakening the ordinance: throwing out a perfectly reasonable clause under which a short-term rental license would expire when a property changed hands. That provision is "perhaps vulnerable," City Attorney Katz now says. Never mind that the public and the Council were assured that the bill was legally bulletproof. Once again we are reminded: in Santa Fe there is no representation without litigation. To get what you want you have to sue.
So I continue to wonder: Why is the local hotel industry not filing its own suit to overturn the ordinance -- which undermines legal, licensed lodging businesses? And why aren't the neighbors who were so incensed by the issue filing a suit of their own?
What Santa Fe desperately needs is a charter revision that would give the City Attorney the same kind of responsibilities on the municipal level as the Attorney General has on the state level: to act as the people's representative. Santa Fe's city attorneys are more like corporate lawyers, not crusaders, advising their client on the corner of Lincoln and Marcy on the most conservative and compromising course to follow.
Thornburg watch
Saturday morning while I was downtown picking up mail and checking out a library book (a history of Wall Street before and after the 1930s banking collapse), I walked by Thornburg Mortgage's offices at 215 Lincoln Ave., across from City Hall. The company's nameplate was gone.
Here for the rumor mill are three speculations: (1) Garrett Thornburg's companies (the other is Thornburg Investments) also rent office space at Marcy Plaza and at 150 Washington. Maybe he is already downsizing and consolidating. Or (2) maybe Thornburg Mortgage, eager to move into its new digs, has relocated to a trailer at its construction site on Ridgetop Road.
Finally (3) maybe somebody stole the sign -- a relic and a souvenir of a fallen era of financial excess.
Wherever Thornburg's leaders are holed up, they are probably working through the weekend. Having missed Thursday's deadline for putting together a financing package that will stave off the Wall Street wolves, the company announced, after the fact, a one-day extension. And when it missed that deadline too, it announced another extension until tomorrow, when, likely as not, it will announce another. Or declare bankruptcy.

March 30, 2008
Courthouse Rhetoric
It was disappointing to see Inez Russell, usually the voice of reason, leveling attacks on courthouse critics in a voice as shrill and misleading as that of County Commissioner Paul Campos. In her column today she belittles "self-appointed guardians of Santa Fe style, of Santa Fe history -- of Santa Fe, period" and wrongly implies that they are trying to push the building out to the suburbs or beyond.

	We can't allow downtown to become (to stay?) a living
	historical exhibit [she writes], with brown and red people
	trucked in daily to add color to the scene. 

As if anyone were remotely suggesting that. The interlopers she derides include the Historic Board, which is appointed by the Mayor and approved by the City Council. The board's allies, members of the Old Santa Fe Association, are I suppose "self-appointed" (another word is volunteers). If it wasn't for this group (you can read about its history and accomplishments here) Santa Fe would be another Roswell or Española. What threatens to sterilize downtown is not preservation but overdevelopment and real estate speculation.
In a better moment, Ms. Russell gets to the real issue -- whether the county is legally bound by city zoning laws -- and she suggests a thoughtful compromise: approve the current courthouse (the latest design is rather fetching) as a one-time exception but insist that this jurisdictional issue be resolved.
To that end, Councilor Ortiz wrote last week to remind me about his resolution (here is a copy) directing the City Attorney to seek a declaratory judgment in the matter. Mr. Ortiz's proposal, which is now in the committee pipeline, also seeks to determine whether construction by the state is, as attorney Steven Farber believes, also subject to city oversight.
For the record, Mr. Ortiz said he objected to my characterization (please see the March 9th entry above) of the Fiorina appointment. Here we'll have to disagree. More than once Mr. Ortiz has disparaged the citizens ethics board ("a bunch of people who are looking for conspiracies when there aren't any"). His appointment of Mr. Fiorina, with his checkered past, to this body is hard to take as anything but a mischievous joke.
Mansion Watch
Like celestial clockwork, Andrew Davis's flashing arpeggio of picture windows is back again. It is now a semi-annual event. Every six months -- just after the equinox, when the sun is midway through its journey between north and south -- the evening glare begins, with nightly encores throughout the week. For citizens farther north, the show comes at sunrise.

April 3, 2008
Unanswered Questions
The only thing clear about the convoluted truce Thornburg Mortgage signed this week with the wolves of Wall Street is how ill-equipped the local press is to make sense of the deal. So far all readers have gotten is lightly massaged wire copy and perfunctory reporting that doesn't come close to capturing the intricacies and drama of the most astonishing business story in years.
A corporate titan that just months ago was the biggest in New Mexico (measured by market capitalization -- total number of shares times their selling price) has lost all but 4 or 5 percent of its value. To hang on to this final scrap, it has borrowed a billion dollars at an initial rate of 18 percent. That's half a million dollars in interest every day.
As an integral part of the bailout, the company plans to increase the pool of its common stock from 172 million shares to 4 billion -- as many as are issued by Wal-Mart -- and give its creditors the right to buy the surplus for a penny a piece. (This, remember, is stock that was selling last year for $28.)
Even if Thornburg, against all odds, eventually regains its former glory, there is little upside for current shareholders -- many of them local investors who believed the Thornburg myth. With the value of their stock diluted to homeopathic proportions, they will get a nickel on the dollar.
Throughout the saga, this crushed shell of a company has continued to build its Ozymandian corporate campus in northwest Santa Fe -- financed with industrial revenue bonds issued by the city under a confusing arrangement where two Thornburg shell companies shuffle money and paper back and forth. We're assured by Thornburg that the city is at no risk, and that Garrett Thornburg's other enterprise, Thornburg Investments, continues to prosper. But where is the independent verification?
Thornburg Mortgage's president, Larry Goldstone, tells the New Mexican that torpedoing its own stockholders (he didn't put it like that) was the only way for the company to survive. But why, with Thornburg's golden portfolio of mortgages, wasn't it a good candidate for a takeover? Lacking a local journalist with accounting and financial expertise, we can only take Mr. Goldstone's word.
Unless there is an investigation by the Securities and Exchange Commission, the national press is probably not going to step very deeply into the muck. From its perspective Thornburg is small potatoes. In any case, a reporter from the Wall Street Journal or the Financial Times can't possibly appreciate the nuances. This is Garrett Thornburg, so big a man in town that he underwrites symphony performances at the Lensic and bankrolls the National Dance Institute of New Mexico for his wife. Who charmed and bulldozed his way through City Hall for permission to build his huge modernistic headquarters on land that the neighbors thought had been reserved for a quaint Santa Style shopping plaza. Who then turned around and thanked the city by asking them for the bonds to underwrite the project . . .
Who goes from playing City Hall politics to hobnobbing with Governor Richardson to wheeling and dealing with the investment bankers of Wall Street. Who supports the most regressive City Council candidates while hosting a reception for Valerie Plame and donating $4,300 to Barack Obama . . .
Who is still facing unsettled litigation over his right to build the campus which is almost built, as well as class-action stockholder suits charging mismanagement and the concealment of risk ("all without merit," Mr. Thornburg assures us). And these were filed before the gutting of the common stock.
Though my own stake in the company has dropped to $1,320 . . . no wait, $1,290 . . . $1,280 . . . $1,270 . . . $1,250, I'm kind of glad I held on. I can't wait to watch the fun at the annual stockholders meeting.

The Cellphone Ban
Talking on a handheld cellphone while driving is illegal throughout the states of California, Connecticut, the District of Columbia, New Jersey, New York, Utah, and Washington. It is illegal in parts of Illinois, Massachusetts, Michigan, Ohio, and Pennsylvania. It is illegal throughout Australia, Austria, Bahrain, Belgium, Chile, China, the Czech Republic, Denmark, Egypt, Finland, France, Germany, Greece, Hong Kong, Hungary, Ireland, Israel, Italy, Japan, Jordan, Kenya, Malaysia, the Netherlands, Norway, the Philippines, Poland, Portugal, Romania, Russia, Singapore, the Slovak Republic, Slovenia, South Africa, South Korea, Spain, Switzerland, Taiwan, Thailand, Turkey, Turkmenistan, the United Kingdom, and Zimbabwe.
In New Mexico, as is often the case with progressive legislation -- prohibiting smoking in restaurants, establishing a higher minimum wage -- Santa Fe was in the vanguard with Albuquerque quickly following. Now Councilor Ortiz wants to overturn Santa Fe's ban.
"Does it make driving safer? That question still hasn't been answered," he said recently in the Journal. "I haven't seen the evidence that eating a hot dog while driving is any safer."
He can't have looked very far. Studies of actual crashes cited by the Insurance Institute for Highway Safety conclude that drivers using cellphones are four times more likely to be in a serious accident. The research was done in Australia and Canada because U.S. cellphone companies won't allow access to usage records. But there is no reason to expect that the outcome here would be different.

April 6, 2008
Public Disservice Announcement
While driving to the dump this morning with a load of green waste, I turned on my favorite station, KBAC, (Radio Free Santa Fe), and was startled to hear a segment called Evolution Minute, a "one-minute radio broadcast reporting fair and balanced news from the frontlines of the evolution-creationism controversy." Today's brief episode was plugging a book called "Darwin's Plantation: Evolution's Racist Roots," written by the director of a creationism museum in Cincinnati. Here is the audio clip. I might as well have been listening to Christian radio.
I suppose the station syndicates this stuff (on Sunday morning when most of its listeners are asleep) to help fulfill FCC requirements to air a certain amount of public service programming. But it's a public disservice to reinforce the impression that creationism is on an equal footing with biological science in explaining how life appeared and grew on earth. The "controversy" is manufactured -- by a fringe group of biblical literalists.
The rest of KBAC's perfunctory Sunday morning consisted of a talk show about whales with psychic powers, astrology, chemtrails, and so forth -- more public disservice programming -- but at least the New Agers aren't demanding that their hallucinations be part of the public school curriculum.
Maybe I missed it, but I didn't hear any mention on the show of the stabbing last week at La Fonda of New Age favorite Rupert Sheldrake, who was assaulted while speaking about thought transference at a conference of psychics, shamans, and spiritualists.
Back home I picked up the New Mexican's real estate section: more pseudoscience in the form of a feature headlined "Forget Feng Shui; think Vastu" -- a style of interior decoration that "honors the five elements . . . air, fire, water, space and earth energies, as well as cosmic forces." (For the record, there are actually 111 elements in the periodic table, with seven more predicted). The writer credulously reported this nonsense as though it was established fact.
With the declining housing market, it must be hard for the editors to fill that section. Just when I thought it could get no smaller, it has lost yet another page of advertising. Sotheby's (formerly French & French), which once sprawled across several pages, has dropped from two down to one. Maybe next they'll close some of their offices along Washington Ave., a formerly vibrant block turned into real estate (and banking) row.
Finally, on a happier note, Tom Sharpe has a wonderful front-page article today about the contributions of the New Deal -- and particularly the Civilian Conservation Corps -- to Santa Fe. When I drove through Glenwood recently, north of Silver City, I stopped to admire the magnificent system of catwalks and bridges built by the CCC along an old pipeline in Whitewater Canyon. I hadn't appreciated how many of Santa Fe's public places, like the river park downtown, the waterfall east of the Delgado Street Bridge, and the stone house at Hyde Park, are also legacies of this program. "Someday in the future," David Kammer, an Albuquerque historian, tells Mr. Sharpe, "people will look at New Mexico and the history of masonry, and they'll identify two great periods -- the period of Chaco Canyon and the period of the New Deal."
Mr. Sharpe reports that there were plans, never realized, to extend the river park all the way to La Bajada. Imagine being able to walk or bike from the Plaza to the Rio Grande. In an age of greed when private enterprise is exalted above everything, it was good to be reminded that during the Depression it was public enterprise that saved the day.

April 18, 2008
Book publicity, plans for the spring science-writing workshop, and other distractions have kept me away from the Review longer than I'd like, but I hope to post a new entry this weekend. Many thanks to everyone who has been checking back regularly.

on to Part 50, Who Owns the Plaza? . . .

The Andrew and Sydney Davis Webcam
Santa Fe Review Detours of the Wild West
---
The Santa Fe Review


subscribe to the RSS feed
More links:
See the current flow of the Santa Fe River above McClure Reservoir with the USGS automated gauge.
The Otowi gauge shows the flow of the Rio Grande north of Santa Fe.
Santa Fe water information, a collection of documents and links