By the time we returned to Tortola, taking the northern route past Guana Island (which like Norman Island is owned by Henry Jarecki), I was eager to see something real. We called a taxi for a trip to Road Town, the capital of the British Virgin Islands. When we told the driver our destination, he assumed we wanted to go shopping. Sixty-seven acres of the old harbor have been filled in, paved over, and developed into a commercial strip, with office buildings, duty-free stores, and a cruise ship dock.
We headed inland instead to Main Street, where there were still a few businesses and other concerns catering to residents: the Midtown Restaurant (with an Obama poster in the window), Abundant Blessings Enterprises (whatever that was), the Diabetes Resource Centre (next to Shopper's Paradise), the B.V.I. Islamic Center, and the Tortola Extermination Service ("Don't Let Your Pests Be Permanent Guests, Whether They Are Cockroaches, Rats, Ants, Termites, Bees, Scorpions, Silverfish, Spiders"). Some Virgin Islanders would probably add tourists to the list. Pusser's, part of a small chain operated by a rum distiller, was selling pirate baseball caps (I couldn't resist buying one), bottles of hot sauce, and what some islanders still call pickaninny dolls.
From Main Street it was an easy walk to what seemed like the most interesting place in town: the old Government House. The colonial mansion had nearly been demolished in the mid 1990s when the islands' governor, who is appointed by the British Crown, decided a more modern residence was in order. After an outcry by preservationists, the historic building was restored and turned into a museum. With no other visitors in sight, we had the place to ourselves, wandering from room to room unsupervised. Pictures of a visit by Queen Elizabeth hung on the walls along with old maps from when the island was carved into sugar plantations. When Caribbean sugar cane could no longer compete with North American sugar beets, the slaves were freed and the empire was left with the problem of how to develop an economy. In the mansion's old library, an article from the Saturday Evening Post, circa 1965, described how Britain's Royal Engineers had been commissioned to build an airport on neighboring Beef Island and connect it with a bridge to Tortola, opening up the sleepy capital to visitors from the United States.
When tourism didn't provide enough cash flow, the island turned to more abstract pursuits. Road Town is home to about 9,400 people and more than 400,000 offshore corporations, which pay the government an annual licensing fee for the advantages of existing, on paper, in a stable and tight-lipped tax haven. "Financial services" bring in more than half of the British Virgin Islands' revenue, with tourism (including yacht registration) making up the rest. The result is a GDP of $38,500 per person — more than 2 1/2 times that of the U.S. Virgin Islands — making BVI the 23rd wealthiest country in the world.
I wouldn't have guessed that as I sat in a small city park and watched a rooster — they are ubiquitous on the island — chase another across the grass. I aimed my camera at a nearby store called Caribbean Essence, which was selling Kokopelli figures like you might see at Jackalope in Santa Fe. I was ready to go home.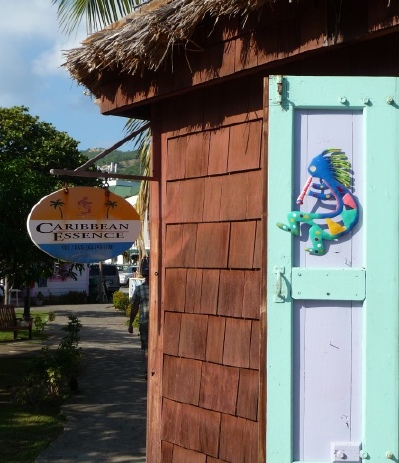 George Johnson
The Santa Fe Review