On Christmas morning I awoke down inside the hold of a 40-foot sailboat docked at Soper's Hole, a marina on the west end of Tortola, the largest of the British Virgin Islands. Undulations from the winter storm that had buried the Northeast still rocked the water, setting the masts of the boats and yachts swaying in synchrony. Few could have cost less than a quarter million dollars (many were worth far more) and most of them sat idle. "There's a lot of capital tied up in boats," my brother-in-law, Greg, observed. He had invited us to spend a week island hopping in the Caribbean, which seemed like a pretty good way to get through the holiday.
I'm one of those atheists who love Christmas, but I knew I wouldn't be in the mood this year. With my mother's death a few months ago, my side of the family had lost the magnet that brought most of us together on the holidays. My wife has also become parentless, so we reluctantly decided to give up tamales, posole, and the Canyon Road farolito walk for a few days in neverland.
We'd flown from Albuquerque to Charlotte Amalie in the U. S. Virgin Islands and spent a few hours wandering around Emancipation Park, where a Christmas tree stood among palms hung with ornaments and lights. Majorettes in skimpy red and green costumes twirled batons while calypso musicians prepared for a performance on the bandstand. In front of the old post office,  the Rising Stars Youth Steel Orchestra hammered the air with melodies, and escapees from a cruise ship bought duty-free jewelry and rum.
From Charlotte Amalie it was a short ferry ride to Tortola where hills green with mahogany and white cedar surrounded the harbor. Mansions as big as any in the Santa Fe foothills had been chopped into the steep slopes. (No sign of an escarpment ordinance here.) A recent construction project, we were told, had set off a landslide. You could barely see the scar anymore. Things grow so quickly in the tropics.
And yet there is a water problem. With only a few seasonal streams and no significant aquifer, rainwater must be collected in cisterns. But that is hardly enough. Tortola's public drinking water comes from desalination factories run by corporations that sell the output to the government for as much as 1.6 cents a gallon — approximately triple what we pay in Santa Fe.
With only 23,000 residents on the island, most of the water is absorbed by the hundreds of thousands of visitors who pass by each year. They also produce most of the garbage. For $2 a bag it is collected at the marina and hauled a few miles down shore to a huge incinerator, which converts as much as 90 tons a day into smoke. (After complaints from a neighboring island, the local government agreed to install smokestack scrubbers and to separate out the tires and oil before burning.) Next to the incinerator, the island's electricity is produced by a diesel-fired generating plant. And next to that is a gravel quarry.
At Soper's Hole the infrastructure of industrial tourism is hidden from view. Walking along the wharf with its open-air restaurants and air-conditioned boutiques, one might as well be in Newport Beach or the Hamptons. People don't come here to see the islands, except from across the water.
It was time to set sail. With little idea of what to expect, I apprehensively took a place on deck as we departed for Drake's Channel and four days in an expensively maintained paradise.
George Johnson
The Santa Fe Review

The most prominent historical attraction in Charlotte Amalie, where we had gotten our first glimpse of the Caribbean, is Blackbeard's Castle, a stone watchtower built in 1679 when the island was occupied by Denmark. I'd known about the Dutch, the French, the Spanish, and even the Portugese, but a Danish incursion into the New World is something we hadn't gotten around to in history class.
Blackbeard's, it turned out, is not really a castle and it is doubtful that there was ever a connection to Blackbeard the Pirate, but the name makes for a good marketing device. Disneylike pirate statues are strewn about the grounds, and it soon became clear that this national landmark is more about making a profit than disseminating information. The entire historic site, along with a whole swath of hillside facing the harbor, has been acquired by a group of investors. The old colonial houses may be worth the price of admission, but the emphasis is on shopping. An educational exhibit on rum making provides an opportunity to sell visitors bottles of Cruzan rum, with free delivery to your cruise ship. While marveling at the specimens in the amber museum — ancient bugs stuck in petrified tree sap — visitors are befriended by enthusiastic young guides who try their best to sell amber jewelry. The owners of Blackbeard's are the real pirates of the Caribbean.
I was thinking about their treachery when, after half a day on the water, our boat pulled into Pirate's Bight on Norman Island, which promotes itself as the template for Robert Louis Stevenson's Treasure Island. Norman is owned, all 610 acres of it, by Henry Jarecki, a psychiatrist-turned-investment banker and land developer. Even the smallest Caribbean islands now have their own websites, and Norman Island has live webcams aimed at the beach and the inside the bar.
We spent the night moored a hundred yards beyond their sight. As darkness fell, neighboring boats lit battery-powered Christmas bulbs. The mast of a large catamaran was rigged with triangles of white lights, a constellation in the shape of a four-story Christmas tree. As its reflection rippled on the water I tried to remember a few lines from a Wallace Stevens poem, The Idea of Order at Key West, that I'd used as an epigraph in one of my books:
The lights in the fishing boats at anchor there,
As the night descended, tilting in the air,
Mastered the night and portioned out the sea,
Fixing emblazoned zones and fiery poles,
Arranging, deepening, enchanting night.

George Johnson
The Santa Fe Review

Relaxing as it is, especially if you're just along for the ride, sailing can be a very inefficient form of transportation. Tacking against the wind, we zigged and zagged, traversing what seemed like 40 miles left and right to go 18 miles forward. But there was no reason to hurry. It was a quiet day with the engine off, the only reminder of our mortality the brief stench of hydrogen sulfide when the captain flushed the sewage tank. Passing tiny landmasses with strange names like George Dog and Fallen Jerusalem, we finally reached our destination: the north sound of Virgin Gorda.
After seeing so many green hillsides slashed with Zorro-like road scars, Mosquito Island, where we anchored for the night, looked refreshingly undeveloped. Later I learned that it has been acquired by Richard Branson, the entrepreneur who is head of the Virgin Group, operator of Virgin Records, Virgin Atlantic Airways, Virgin Megastores, Virgin Mobile, and dozens of other companies including Virgin Galactic, which is building Spaceport America in southern New Mexico for tourism beyond the earth. Sir Richard also owns Necker Island, just a little north of us, which can be rented for upwards of $36,000 a night with a three-night minimum. Mosquito Island, he has said, will be developed as an eco-friendly luxury resort with a zero carbon footprint. I wonder what they'll do with their garbage.
After two days on the water and a brief bout of seasickness, I was glad the next morning when we took a dingy to Saba Rock  for lunch on solid ground followed by a walk around the Bitter End Yacht Club. Inside the commissary, which caters to boaters, I jotted down some prices: $9.25 for a box of Cheerios, $10.15 for a bag of Cheez-its — signs of what to expect when there is tourism on the moon.
Eventually, I guess, there will be space yachts even more luxurious than those that navigate the Caribbean. Several times on our voyage we spotted the Alfa Nero, an evil-looking craft whose dark, sharp angles reminded me of Darth Vader. Its inhabitants, I later read, have included Bill Gates, who chartered the boat for a family vacation. With more than 4,000 square feet of living space and a swimming pool that can be converted into a helipad, the 269-foot boat, owned by Theodore Angelopolous, a Greek shipping magnate and yachtmaker, is listed for sale for $190 million — almost ten times the price of the Davis mansion in Santa Fe. One evening when I had a wireless connection, I read in the Journal that the Santa Fe County Assessor had confirmed that Casa Davis is indeed the most expensive residence in New Mexico and will be billed for about $133,000 a year in property taxes. Not much, I guess, in the surreal world of the Caribbean jet set, barely enough for three days on Mr. Branson's Fantasy Island.
George Johnson
The Santa Fe Review

By the time we returned to Tortola, taking the northern route past Guana Island (which like Norman Island is owned by Henry Jarecki), I was eager to see something real. We called a taxi for a trip to Road Town, the capital of the British Virgin Islands. When we told the driver our destination, he assumed we wanted to go shopping. Sixty-seven acres of the old harbor have been filled in, paved over, and developed into a commercial strip, with office buildings, duty-free stores, and a cruise ship dock.
We headed inland instead to Main Street, where there were still a few businesses and other concerns catering to residents: the Midtown Restaurant (with an Obama poster in the window), Abundant Blessings Enterprises (whatever that was), the Diabetes Resource Centre (next to Shopper's Paradise), the B.V.I. Islamic Center, and the Tortola Extermination Service ("Don't Let Your Pests Be Permanent Guests, Whether They Are Cockroaches, Rats, Ants, Termites, Bees, Scorpions, Silverfish, Spiders"). Some Virgin Islanders would probably add tourists to the list. Pusser's, part of a small chain operated by a rum distiller, was selling pirate baseball caps (I couldn't resist buying one), bottles of hot sauce, and what some islanders still call pickaninny dolls.
From Main Street it was an easy walk to what seemed like the most interesting place in town: the old Government House. The colonial mansion had nearly been demolished in the mid 1990s when the islands' governor, who is appointed by the British Crown, decided a more modern residence was in order. After an outcry by preservationists, the historic building was restored and turned into a museum. With no other visitors in sight, we had the place to ourselves, wandering from room to room unsupervised. Pictures of a visit by Queen Elizabeth hung on the walls along with old maps from when the island was carved into sugar plantations. When Caribbean sugar cane could no longer compete with North American sugar beets, the slaves were freed and the empire was left with the problem of how to develop an economy. In the mansion's old library, an article from the Saturday Evening Post, circa 1965, described how Britain's Royal Engineers had been commissioned to build an airport on neighboring Beef Island and connect it with a bridge to Tortola, opening up the sleepy capital to visitors from the United States.
When tourism didn't provide enough cash flow, the island turned to more abstract pursuits. Road Town is home to about 9,400 people and more than 400,000 offshore corporations, which pay the government an annual licensing fee for the advantages of existing, on paper, in a stable and tight-lipped tax haven. "Financial services" bring in more than half of the British Virgin Islands' revenue, with tourism (including yacht registration) making up the rest. The result is a GDP of $38,500 per person — more than 2 1/2 times that of the U.S. Virgin Islands — making BVI the 23rd wealthiest country in the world.
I wouldn't have guessed that as I sat in a small city park and watched a rooster — they are ubiquitous on the island — chase another across the grass. I aimed my camera at a nearby store called Caribbean Essence, which was selling Kokopelli figures like you might see at Jackalope in Santa Fe. I was ready to go home.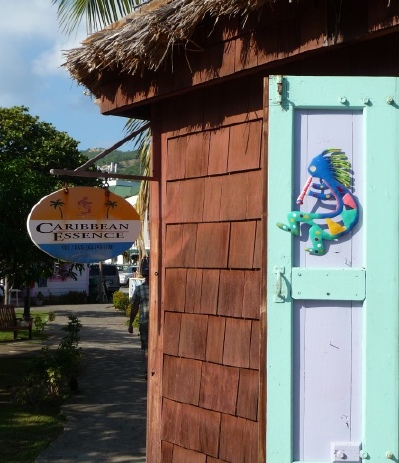 George Johnson
The Santa Fe Review

Returning to Santa Fe on New Year's Eve, I was curious to see if there had been any snow over the Christmas holiday. The night before our departure for St. Thomas, a few inches had fallen, enough to make for a slow, nerve-racking drive to the Albuquerque airport. But it was clear as we pulled back into the driveway that the week had been mostly dry. Amy Lewis, who operates the weather station at Seton Village, tells me that there was a grand total of 0.82 inches of snowmelt for the entire month of December — 2 1/2 times less than in December 2008. For the year she measured 13.74 inches of precipitation. (Please see the Ultimate Santa Fe Precipitation Chart.) At the Santa Fe airport the total for 2009 was only 10 inches, making it the driest year since 2004. So far in January there has been no new moisture at all.
Dry weather at least makes for good flying, and early last week Tom Blog took me up in his Cessna for a look at the town from about 1,000 feet. We headed up Cerrillos Road, passing over the wasteland that was the old Santa Fe Indian School. From there we headed northeast over Thornburg headquarters (I wanted to take in all my favorite sights) and circled over the villages of Chupadero and Rio en Medio. Flying back south over the foothills, we got a stunning view of the Santa Fe River all the way from the Canyon Road treatment plant past Nichols and McClure Reservoirs, stacked one above the other on the mountain. I had never seen both of them at once. Frozen and white with snow they shone among the pines — the source of 40 percent of Santa Fe's drinking water.
After pausing for a look at the Tom Ford mansion and what turned out to be my best photo of the day (warning: this is a 5.6 megabyte download), we headed west toward the Rio Grande, where the rest of the city's water comes from. Construction was continuing at the new treatment plant on Caja del Rio Road, which will clean the water pumped up from the Buckman diversion dam.
We flew along the pipeline past Diablo Canyon and the Buckman well field to the Rio Grande, then followed the river north to where it meets the Chama. All of this territory, my favorite part of the world, seemed so compact and finite from the air. Before I knew it we were almost to Abiquiu Lake. We cut south past the black volcanic mesa called Cerro Pedrenal and ascended a few thousand feet higher for a flight over the Valles Caldera and Redondo Peak, then down the other side of the Jemez Mountains to Cochiti Dam. Back when I was finishing high school in Albuquerque, a corporation called Great Western Cities announced that by 1980 it would build a town next to Cochiti as big as Santa Fe. Thankfully it turned out to be a scam. I'd forgotten the story until just recently when Emlen Hall, the retired UNM law professor I mentioned in a previous post, sent me an article he wrote almost 30 years ago in The New Mexico Review.
The Santa Fe River, or at least the dry river bed, enters the Rio Grande just north of Cochiti, and as we headed back home I watched it until it disappeared inside the deep basalt canyon at La Bajada. Someday I'd like to hike that stretch, from there north to La Cienega. (How esoteric all this geography must sound to readers who don't know northern New Mexico. Live here long enough and it's like being indoctrinated into a cult with its own private language.)
Before we landed I spotted the river one last time, fat with discharge from the sewage treatment plant on Airport Road. We'd come full circle, seeing where water comes into the city and where it goes back out again.
George Johnson
The Santa Fe Review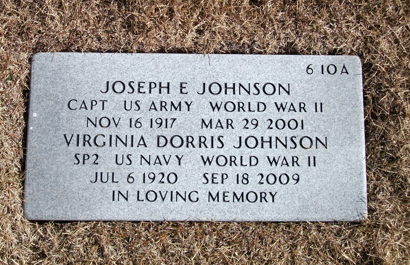 On a recent Saturday, I drove out to the National Cemetery to see if they had spelled my mother's name right. She went by her middle name, Dorris, and insisted on the two r's. My father, who was an Army doctor in World War II, died a few years earlier, so his name was already on the headstone. Now hers — she was a specialist 2nd class in the Waves — has been chiseled in below.
In earlier days when they placed the headstones straight up instead of lying flat on the ground, the names of the wives were engraved on back. As I walked downhill between the rows and columns, I jotted some of them down: the Sadies, Agneses, Irises, and Elsies . . . the Tillies, Idas, Doras, Claras, and Crystals. There were  Irenes and Roses . . . Pearls, Rhodas, Veras, Lucilles — names that don't get used much anymore. There was even another Dorris, spelled the same unusual way.
Someday, sadly, there will be hills of Chloes and Ashleys, Zoes and Briannas, sharing a stone with their Ethans and Aidens and Dylans and Zacharys. I've read that some of the older names — Olivia and Lillian — are making a comeback. George is still hopelessly passé.
January is my least favorite month. (February is close behind.) With snow covering everything and the sky blanked out, even Santa Fe takes on a bleak monotony. It becomes harder to believe in the possibility of change.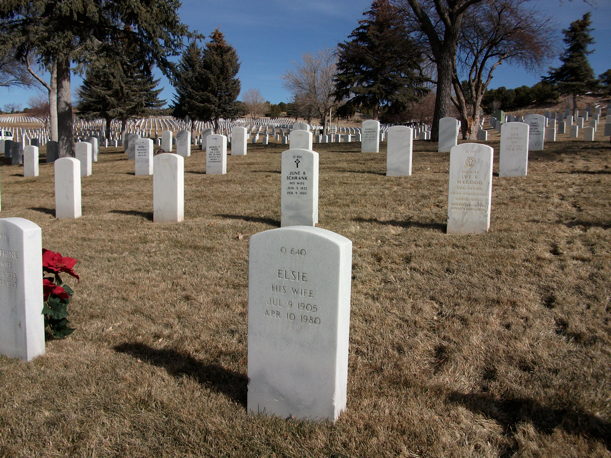 I've heard nothing more from Senator Udall's office about the Interior Department's investigation — if indeed there really is one — of the destruction of the old Santa Fe Indian School. Meanwhile our timid preservationists go after smaller fry like the big electric utility box on the Plaza. I'd forgotten all about it — the thing has been there for more than a year — and was surprised to see the issue back in the news. Maybe the box could have been less obtrusive, but it's absurd to consider spending between $80,000 and $800,000 for a remedy when there are so many more egregious affronts.
Near Washington and Marcy, the junky second-story addition to the old building across from the library (last mentioned here eight months ago) still sits abandoned, the developer apparently having run out of bucks. On East Alameda a half-finished condominium complex — one that never should have been approved — continues to rot in place. And there is the hillside just east of Paseo de Peralta and Washington that was blasted away for another unneeded, and so far unbuilt, luxury project. All of these should be condemned by the city and turned into urban parks or affordable housing.
Or maybe a shelter — built from aluminum and firmly grounded — for the anti-wifi people with their made-up disability — "electrosensitivity." In their latest caper, Arthur Firstenberg, the ringleader of the bunch,  has sued an innocent neighbor for exposing his house to her cellphone rays. He might as well be accusing her of witchcraft. The suit will be thrown out of court, most likely, and Mr.  Firstenberg ordered to pay his victim's legal costs. But that won't put an end to this nonsense. The same people are still trying to block a plan to bring more public wifi downtown. Just because Santa Fe has a 17th-century patina doesn't mean it has to limit itself to 17th-century technology.
Enough of this gloom. By the time I finished writing this installment, my mood had lifted along with the clouds. The sun is out, the sky is deep blue. It really is beautiful here in winter.
George Johnson
The Santa Fe Review

Related posts:
What Science Really Knows About Wifi