Earlier this year at a Santa Fe Symphony benefit dinner at El Farol, I found myself seated next to Maurice Bonal, the liquor license broker, lobbyist, and former city councilman who serves as chairman of Santa Fe 400th Anniversary Inc., the nonprofit corporation charged with organizing the Cuarto Centenario. Somehow the conversation drifted to the city's more recent past, and I said how much nicer Santa Fe must have been before the massive urban renewal project in the 1960s when the bulldozers scooped out Paseo de Peralta, obliterating Castillo Street and large swaths of Manhattan and Hillside Avenues. With those narrow, winding streets still intact, Santa Fe must have had a more European feel. Mr. Bonal had a more practical take. Driving downtown, he said, was a nightmare.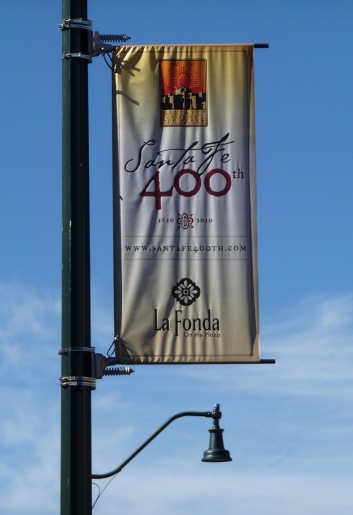 He seemed like the kind of gung-ho, no-nonsense guy who could make a go of Santa Fe's 400th birthday party. He gave me his card and an official Cuarto Centenario pin. I assumed, without thinking much about it, that this would be a modest volunteer effort with perhaps a small support staff.
It was startling to learn last month about Mr. Bonal's grandiose plans. The organization did its best to keep its expenditures secret — a violation of the laws governing nonprofit corporations — but the Reporter ferreted out the numbers. The celebration's executive director, Libby Dover, who was recruited from Seattle, was making $120,000 a year. She was assisted by a sponsorship manager ($66,000), a community coordinator ($52,000), an executive coordinator ($50,400), an events assistant ($38,400), and a bookkeeper ($30,000).
On top of all that, $4,000 a month was paid to a public-relations company, Ballantines PR, and another $10,000 a month to the Sharpe Alliance, "an integrated brand building, marketing and promotion company" in Beverly Hills, which was supposed to attract corporate sponsors. Santa Fe's Cuarto Centenario. Brought to You by Taco Bell. An astonishing $2,100 a month was paid to create and maintain a rather ordinary website and between $1,200 and $2,500 a month for "graphic design."
All this money was committed with the assumption that as much as $10 million would be raised for 16 months of festivities beginning on Labor Day weekend 2009 with President Obama taking the stage at Fort Marcy Park along with President Calderón of Mexico and the king and queen of Spain. There would be PBS documentaries and a $250,000 webcast.
Even in boom times and with an ambitious organizer like Ms. Dover, such extravagant notions were probably doomed from the start. We all know what happened. Having burned through $1.1 million in seed money from the city and an additional half a million from the state and local businesses, we had to settle for a visit by the prince and princess and a downsized festival at the park. With no big donors to foot the bill, the planned mega-celebrations have been drastically scaled back. The organizers have dismissed Ms. Dover and two of her staff and are asking the city for $750,000 in emergency funds to soldier on.
Maybe now we can continue with something less pretentious and more befitting of Santa Fe. A good example is the farolito display proposed by Bill Dupuy and Dan Gerrity of public station KSFR and described this morning in the New Mexican. The city would pay the kids at Warehouse 21 a few thousand dollars to stamp brown paper bags with the 400th anniversary emblem. City workers, as they do every year, would fill the bags with sand and candles and place them around the Plaza. Who needs 400th Anniversary Inc.?
Probably a lot of people are wondering the same thing, which might explain Mr. Bonal's testy reaction: "There is a copyright issue. Nobody can go out and just pirate [the logo]," he told the New Mexican. "They would have to have a licensing agreement."
Presumably the price would be less than what he charges for a liquor license.
George Johnson
The Santa Fe Review

It's been a year of anniversaries. Both the Santa Fe Symphony and the Santa Fe Institute are celebrating their 25th. The Reporter celebrated its 35th and, I realized belatedly, The Santa Fe Review turned five years old. It seemed like a good time to spruce up my do-it-yourself design. First I had to think harder about what this actually is. As I've written before, it is not a blog, and I don't want it to become one. I've liked starting a new page every few weeks and then updating it until it seemed like time to start another. Sometimes I think of the result as a continuing saga, serialized nonfiction about this wonderfully strange town.
On the other hand, the format made it hard for other publications to link to individual articles, and for new readers to locate standing features like Who Owns the Plaza? After lengthy meetings with my graphic designer (me) and my web programmer (me), I've come up with what I hope will be a good compromise.
Though the pages look a little crisper, this will remain a low-key operation. Sometimes the Andrew Davis webcam will fall off the table, as it did over the weekend, and remain on the floor until it's picked up and re-aimed. And the image from the Tom Ford webcam will continue to get blurrier until I get around to replacing a permanently fogged double-glazed window pane.
George Johnson
The Santa Fe Review

In 1988 the United States Supreme Court dealt New Mexico a devastating blow. It ruled that since the 1960s the state had been cheating Texas out of 10,000 acre-feet a year of Pecos River water. New Mexico was ordered to pay $14 million in restitution and to make sure that this never happened again. Emlen Hall, a professor emeritus of law at the University of New Mexico, wrote about the saga in High and Dry: The Texas-New Mexico Struggle for the Pecos River, the most interesting book I know about water in the Southwest.
The river begins as a creek funneling snowmelt off the south slope of the Santa Barbara Divide in the Pecos Wilderness northeast of Santa Fe. On its way down the mountains, the Pecos is joined by the Rio de los Chimayosos, which drains the Truchas Peaks, then by Beatty Creek, Jack's Creek, Panchuela Creek, Winsor Creek, and Holy Ghost Creek. Roaring with water, the stream continues south through Santa Rosa, Fort Sumner, Roswell, and Carlsbad before crossing the Texas state line. Ensuring that there is anything left by then to satisfy Texas has been a legal, political, hydrological, and engineering nightmare.
As recently as 2001, in the depths of the drought, Tom Turney, who was New Mexico's water czar (the proper title is State Engineer), warned that he might have to make a priority call: upstream users with junior water rights, including the city of Roswell, would have their supply cut off. That was enough to grab the attention of the state legislature: $34 million was appropriated to buy up 18,000 acres of Pecos farmland and take it permanently out of production. To get through the year without incurring penalties, $900,000 was spent to purchase water from the Carlsbad Irrigation District, and thousands of acre-feet of ground water was pumped by the state and dumped into the river.
Given all that effort and expense, it was strange to learn last week from Julie Ann Grimm in the New Mexican that a proposal is still on the table to pump 6,850 acre-feet a year of Pecos water all the way back to Santa Fe, a distance of 450 miles. The entrepreneurs behind the scheme, Berrendo LLC, have been pulling out all the stops. All that new water, they say, would mean more affordable housing and a more reliable, diverse water supply. It would also mean more subdivisions and sprawl. According to the company's presentation on the Santa Fe City website, Berrendo has the support of Fort Sumner's mayor and city council and the De Baca County Commission.
When a similar plan was hatched a few years ago to pipe in water from the Estancia Valley, local residents came here to rally in opposition. In Fort Sumner, we're told, they are eager to get out of the farming and ranching business. Why bother with cattle and alfalfa when you can sell your water at a premium to the city slickers in Santa Fe?
George Johnson
The Santa Fe Review


In Sunday's Journal, Kiera Hay continued her investigation of what Santa Fe got from the half a million dollars it spent on "creative tourism." Her first story appeared on September 27 and has been followed by two more: Who Paid for Conference Booze? and Nonprofit Claims City Owes $30K for Conference Work. A sidebar provides a detailed breakdown of the money spent for the Santa Fe International Conference on Creative Tourism last year. Expenses included $10,000 for a lackluster website — more government economic stimulus for the local web design industry.
This kind of good journalism takes effort and ambition, and I'm glad to spend the $110 a year it costs to subscribe to the Journal's online edition. That comes to just 30 cents a day. The Journal is one of the few newspapers in the country that refuses to put its content on the Web for free. It pays a price for its obstinacy. If you search Google for "Santa Fe creative tourism," none of Ms. Hay's fine reporting will appear. Nor will you find Karen Peterson's biting editorial on the subject.
In a blog called Journal Watch, Tracy Dingmann chides the paper for not getting into the spirit of the Internet Age. Information, she says, repeating a wornout mantra, "wants to be free."
Does she mean libre or gratis? Free as in free speech or free as in free beer? People are naturally happiest when they don't have to pay for the value they receive. That includes both readers and advertisers, who have been offering pennies on the dollar for online ads. My old employer, the New York Times, is by far the most widely read newspaper on the Internet, with more than 20 million unique readers a month. And like almost every other newspaper in the country, it is in a financial crisis, struggling to support the quality of its journalism with a diminishing income stream. One of the few newspapers that is profiting anymore is the Arkansas Democrat-Gazette. Its publisher, Walter Hussman Jr., has been charging online readers for the last seven years. This month he was chosen by The Atlantic as one of the world's 27 Brave Thinkers. You can read all about it online for free.
Most people I know in the journalism trade follow a blog (one of the very first) called Romenesko, which is a great, if depressing way to keep up with the news about the news. We read about pay walls, which mostly just serve to maintain the more lucrative print readership. We read about compromises — charging for "premium content" while everything else is free — and about micropayments, in which information would be metered like electricity. In the long run, journalism will find a way to make real money in a virtual world. Meanwhile I'm not at all convinced that the Journal has the wrong idea.
It was Stewart Brand, of Whole Earth Catalog fame, who first said "Information wants to be free." That was 25 years ago, and he added an important qualification: "Information also wants to be expensive. That tension will not go away."
Related posts: My Anti-blog, Ecovoyeurism
George Johnson
The Santa Fe Review

Last night Channel 13 News in Albuquerque broadcast an embarrassing report about Santa Fe's Cuarto Centenario. At least it was supposed to be embarrassing. "After pouring [sic] over hundreds of expenditures involving more than $1 million," Kim Holland reports, "News 13 found gaps in receipts, contracts and reports about what exactly the money was spent on." The text of her story, So many candles; so few receipts, appears, typos and all, on the station's website.
Missing receipts are obviously a concern, but Ms. Holland's examples are petty. It's hard to get overly exercised about a grand total of $264 in taxpayer money going to ship biscochitos to London. "The city isn't saying how schmoozing the Brits benefits Santa Fe taxpayers," she admonishes. A shocking revelation.
	And there was $1,700 for a Spanish delegate dinner. Yet there's
	no record of what the event was for, who was on the guest list or
	what they talked about, and again the city's [sic] isn't saying
	either.
The dinner was presumably connected with the visit this fall of the Spanish prince and princess, which was one of the Cuarto Centenario's successes.
The only real surprise in her report is that $5,000 went to Carlos Fierro to lobby Congress for funding and to raise donations for the celebration. But as Kiera Hay reports this morning in the Journal, he completed his work well before he was charged with vehicular homicide.
The bottom line is this: of the $1 million Channel 13 investigated, the big controversy is over those biscochitos. The real story about the 400th anniversary is the excessive amount spent on salaries, web hosting, graphic design, and so forth — and those were documented expenses.
George Johnson
The Santa Fe Review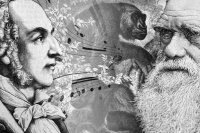 Almost as soon as I entered the lobby of the Lensic on Saturday night, I could see that the audience was different from the usual symphony crowd. I spotted Geoffrey West, a physicist and theoretical biologist whose work I wrote about years ago in the New York Times, and Doyne Farmer, who appears in my book Fire in the Mind. There were other scientist friends like Joseph Traub, the Columbia University mathematician. Sandra Blakeslee, fellow science writer and cohost of the Santa Fe Science Writing Workshop, was in the audience. And during intermission I nearly collided head-on with Murray Gell-Mann, the Nobelist whose exploits I chronicled in Strange Beauty. I don't think he has ever forgiven me. I felt for a few hours like I was living in a small town.
Science is as much a part of Santa Fe's soul as music and art. With the Santa Fe Institute and the Santa Fe Symphony Orchestra both turning 25 this year, they had come together to produce Voyages of Discovery in honor of Charles Darwin and Felix Mendelssohn, who happen to have been born 200 years ago.
While waiting for the show to begin, I talked for a minute with Cormac McCarthy, who once advised me that "a semi-colon is simply an excrescence similar to bird lime." (He had been reading the manuscript of The Ten Most Beautiful Experiments before it went to press.) He has also raised my suspicion of commas. I'd met him in the 1990s at a Santa Fe Institute dinner, and I remember his lamenting the lack of a really good biography of the quantum theorist Paul Dirac. (There is one now: The Strangest Man by Graham Farmelo.)
Symphony concerts customarily begin with board member and psychotherapist Penelope Penland, her hair radiant as electrified neon, thanking the evening's underwriter — usually Garrett Thornburg or Eddie and Peaches Gilbert. This time it was Andrew and Sydney Davis. Earlier that day the New Mexican reported that the county had finally finished determining the value of their new home, which looms on a hilltop over the Santa Fe Institute: $20.4 million. County Tax Assessor Domingo Martinez says it's probably the most expensive house in New Mexico. One can only hope so.
Other than the coincidence of their births, Darwin and Mendelssohn didn't have much in common. But if you look hard enough you can find connections. Both men went on big boat trips and got very seasick. They came home and produced great works — Origin of the Species and the Scottish Symphony. Only the former is indispensable.
Between renditions of the composer's work, the actor Jonathan Richards read letters from Darwin. Kirk Ellis, a documentary television producer, filled in for Mendelssohn. David Krakauer, a Santa Fe Institute researcher and impresario, alternated with the orchestra's conductor, Steven Smith, in providing commentary. Whether or not this all congealed, it was a noble experiment and a good excuse for bringing two different Santa Fes under one roof.
It was snowing after the curtain calls, and music was booming from Evangelo's across San Francisco Street. Back at home I searched the web for a list of other 1809 birthdays: Abraham Lincoln, Alfred Lord Tennyson, Oliver Wendell Holmes, Kit Carson, Edgar Allen Poe. A century later in 1909 Wallace Stegner, Al Capp, Lionel Hampton, Malcolm Lowery, and Vivian Vance were born. Samuel Johnson arrived on earth in 1709 as did Jacques de Vaucanson, famous in some circles for inventing a mechanical duck, an early attempt at artificial life. Maybe they all could be squeezed somehow into a grand finale celebrating Santa Fe's 400th —  and the human preoccupation with anniversaries that end in zeroes, or at least with a 5.
George Johnson
The Santa Fe Review

I should have taken the Cash for Clunkers deal. In August I wrote about why I did not: My 1992 Jeep was in fine condition with only about 125,000 miles on the odometer. I looked forward to driving it for 125,000 more.
But fate intervened. I was driving south on Calle Lorca between San Mateo and St. Michael's Drive when a pickup truck swerved head-on into my lane, smashing the front of my car. As pungent green radiator fluid poured onto the asphalt, the other driver apologized and I called 911. Twenty minutes later an officer arrived and asked for the usual documents. My license and insurance card were in my wallet, but I searched through my glove compartment again and again and could find only last year's registration. The renewal sticker was on the plate, but the cop was unsympathetic. I got a ticket and my disabled Jeep was towed to a body shop at the Santa Fe Auto Park.
As I drove around town for the next few days in a rented Impala with Texas plates (I'm pretty sure some teenagers jeered at me on West Alameda), I longed to get my trusty Jeep back on the road again. Then the insurance adjustor called to tell me that he had declared it a total loss. Though he estimated repairs at less than $2,400 — a new grill, radiator, and air conditioning condensor and some minor body work — it was cheaper for the insurance company to pay me the book price and then sell the wreck to a junkyard.
There was another catch. Since the other driver was 100 percent liable, his insurer was obliged to pay for my rental while I waited for the Jeep to be repaired. But since it had been totaled there were no repairs to wait for. I was summarily informed that I must return the Impala or pick up the charges myself and that, in a few more days, I would be responsible for storage costs for the Jeep. In New Mexico, anyway, insurers can get away with that.
I drove down to the body shop for the last rites: removing the ski rack, license plate, and various belongings. I was cleaning out the storage compartment between the two front seats and there it was: the missing registration. Just the day before I'd paid for a duplicate — $5 plus a $20 "convenience fee" at MVD Express.
I brought the papers to traffic court and sat for an hour and a half listening to all the sad stories. There was the Mexican immigrant who didn't have his registration or any of his documents because his wife was holding them hostage in a divorce dispute. There was the old man who was only allowed to drive to the McDonald's on Pacheco Street but had strayed a few blocks north to pay a utility bill. There was one person after another asking for 60- and even 90-day extensions to pay a $100 fine. The judge, Ann Yalman, was kind, sympathetic, and fair. When my turn came, she dismissed the citation. I left the court feeling a little luckier and thankful that it was only a car I'd lost.
George Johnson
The Santa Fe Review