Earlier this year at a Santa Fe Symphony benefit dinner at El Farol, I found myself seated next to Maurice Bonal, the liquor license broker, lobbyist, and former city councilman who serves as chairman of Santa Fe 400th Anniversary Inc., the nonprofit corporation charged with organizing the Cuarto Centenario. Somehow the conversation drifted to the city's more recent past, and I said how much nicer Santa Fe must have been before the massive urban renewal project in the 1960s when the bulldozers scooped out Paseo de Peralta, obliterating Castillo Street and large swaths of Manhattan and Hillside Avenues. With those narrow, winding streets still intact, Santa Fe must have had a more European feel. Mr. Bonal had a more practical take. Driving downtown, he said, was a nightmare.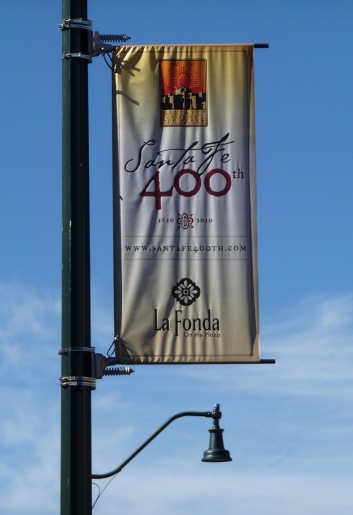 He seemed like the kind of gung-ho, no-nonsense guy who could make a go of Santa Fe's 400th birthday party. He gave me his card and an official Cuarto Centenario pin. I assumed, without thinking much about it, that this would be a modest volunteer effort with perhaps a small support staff.
It was startling to learn last month about Mr. Bonal's grandiose plans. The organization did its best to keep its expenditures secret — a violation of the laws governing nonprofit corporations — but the Reporter ferreted out the numbers. The celebration's executive director, Libby Dover, who was recruited from Seattle, was making $120,000 a year. She was assisted by a sponsorship manager ($66,000), a community coordinator ($52,000), an executive coordinator ($50,400), an events assistant ($38,400), and a bookkeeper ($30,000).
On top of all that, $4,000 a month was paid to a public-relations company, Ballantines PR, and another $10,000 a month to the Sharpe Alliance, "an integrated brand building, marketing and promotion company" in Beverly Hills, which was supposed to attract corporate sponsors. Santa Fe's Cuarto Centenario. Brought to You by Taco Bell. An astonishing $2,100 a month was paid to create and maintain a rather ordinary website and between $1,200 and $2,500 a month for "graphic design."
All this money was committed with the assumption that as much as $10 million would be raised for 16 months of festivities beginning on Labor Day weekend 2009 with President Obama taking the stage at Fort Marcy Park along with President Calderón of Mexico and the king and queen of Spain. There would be PBS documentaries and a $250,000 webcast.
Even in boom times and with an ambitious organizer like Ms. Dover, such extravagant notions were probably doomed from the start. We all know what happened. Having burned through $1.1 million in seed money from the city and an additional half a million from the state and local businesses, we had to settle for a visit by the prince and princess and a downsized festival at the park. With no big donors to foot the bill, the planned mega-celebrations have been drastically scaled back. The organizers have dismissed Ms. Dover and two of her staff and are asking the city for $750,000 in emergency funds to soldier on.
Maybe now we can continue with something less pretentious and more befitting of Santa Fe. A good example is the farolito display proposed by Bill Dupuy and Dan Gerrity of public station KSFR and described this morning in the New Mexican. The city would pay the kids at Warehouse 21 a few thousand dollars to stamp brown paper bags with the 400th anniversary emblem. City workers, as they do every year, would fill the bags with sand and candles and place them around the Plaza. Who needs 400th Anniversary Inc.?
Probably a lot of people are wondering the same thing, which might explain Mr. Bonal's testy reaction: "There is a copyright issue. Nobody can go out and just pirate [the logo]," he told the New Mexican. "They would have to have a licensing agreement."
Presumably the price would be less than what he charges for a liquor license.
George Johnson
The Santa Fe Review