The New Mexican finally got around to
covering the Thornburg story
last Friday, but it wasn't worth the wait. The editors might as well have run a wire service rewrite from the AP. No details or insight were offered beyond what others had already reported. All the flattering stories about Thornburg the New Mexican has published over the years didn't even earn it an exclusive quote from a company insider. When it comes to covering business, Santa Fe's paper of record is rarely more aggressive than a farm town gazette enthusing over the opening of a new hardware store — or, in these days, a McDonald's. That might be tolerable for most towns this size, but Santa Fe is home not just to Thornburg but to powerful national real estate magnates like William Zeckendorf and Donald Tishman. They get the same fawning treatment as Garrett Thornburg.
Mr. Tishman is the developer of Zocalo, the brightly colored condominium complex built next to the interchange for U.S. Highway 84/285 and the Santa Fe Bypass. For days the New Mexican has been running advertisements (including those obnoxious front-page stickers) for an auction in which bidding for condos recently listed at $365,000 will start at $90,000. A story in today's business section reads like a continuation of the ad campaign. Zocalo offers "a combination of style, comfort and value," the auctioneer assures us in the third paragraph. (Some of the condos will have views, across four lanes of traffic, of the new Thornburg corporate headquarters.) In the story, a spokesman for the developer is allowed to get away with blaming Zocalo's troubles on the usual "unprecedented downturn in the real estate market," as though Mr. Tishman weren't among those eagerly pumping up the bubble right until it popped. Missing entirely are comments from Zocalo residents who paid full price for their cubicles only to have the developer undercut their "investment" by overbuilding and then holding this fire sale.
I drove out to Zocalo this afternoon and walked around the half-built northern section where the units to be auctioned sit vacant. The highway noise was constant like wind. Surrounding the complex are large swaths of graded land that would have held even more unsellable condos. Nothing lives there now but ants and weeds.
Another of Mr. Tishman's deals, the Tres Santos senior apartments, behind the McDonald's on Pacheco Street ("our location simply can't be beat!") is also suffering. (A principal in the project is former city councilor Carol Robertson Lopez.) The New Mexican did a better job of covering this mess, reporting last month that residents were unhappy about plans to renege on the commitment to rent only to older adults. In this market some landlords will take whatever they can get — at the expense of tenants who took them at their word.
Bad judgments by people who were supposed to understand how money works, including the wizards of bankrupt Thornburg Mortgage, have left Santa Fe with a bottomless pit of junk real estate — apartments, both condos and rentals, that nobody wants. Remember the situation early last year near the Railyard where developers were rushing to pile multi-level luxury condos onto an old established neighborhood of single-family homes? (Please see Chapter 47. The "New Urbanism" Scam.) "I feel infill is an answer to global warming on a big scale," said one of the speculators, who had shoehorned a three-story complex onto a small lot on Juanita Street. Since June, Los Alamos National Bank has listed two of the units for sale on its foreclosure page. You can also get a deal from the bank on a repossessed Dodge Grand Caravan.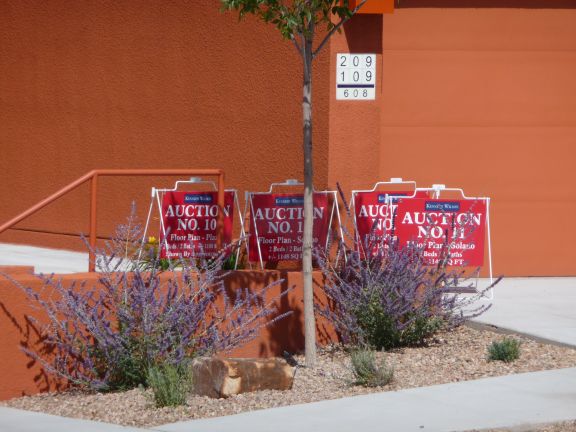 George Johnson
The Santa Fe Review