Saturday morning on the Dale Ball Trails, as I kept to the edges to avoid the Cerro Gordo mud, I looked down and saw a rifle shell sitting in the snow. Back at the trailhead parking lot I'd noticed an empty six-pack left by Friday night partiers (16-ounce cans of Bud Light, the calorie counters' choice) and I wondered if they had been out here shooting in the dark. Picking up the shell I saw that the inside was a little rusty. Maybe it had washed down from the hills, an artifact of an earlier time.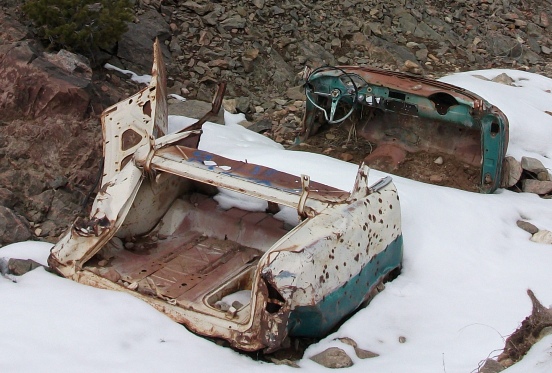 This is the stretch of trail that starts at the hairpin turn on Cerro Gordo Road and follows an arroyo north toward the Cerros Colorados subdivision with its lonely streets of million-dollar second homes. But the area used to be a semi-urban wilderness. A few hundred feet up the trail from the parking area is one of my favorite historical attractions: an old blue-and-white car — a Studebaker? — mired in the sand and riddled with bullet holes.
It seems like that should be a metaphor for something — Santa Fe's city government or Tuesday's mayoral election. But I can't quite get my head around it. Campaign season here has been such a mush. The New Mexican reported this morning that the incumbent, Mayor David Coss, maintains a commanding lead. And judging from the campaign finance reports, he is set to raise a record amount of money — from developers and environmentalists, from realtors and historic preservationists, from Chamber of Commerce bigwigs and neighborhood activists — from people with conflicting interests and visions that cannot possibly be reconciled. Mr. Coss is the champion of the Living River and the Living Wage with big support from the Santa Fe Area Home Builders Association, the Thornburg and Zeckendorf dynasties, and the labor unions. So just whom and what would I be voting for?
The mayor's strongest contender, Asenath Kepler, has received money in smaller bundles from an odd assortment that includes real estate attorney Kurt Sommer and Sagemaya Dandi, the squatter who lives in a tent in the woods above upper Canyon Road. She also has the support of former mayor Debbie Jaramillo. (Ms. Kepler was her city attorney and, as a favor, helped the mayor's husband fight an income tax evasion charge.) But there is a decidedly right-wing cast to her support: New Mexican columnist Gregg Bemis, the Friends of Capitalism, madhatters from the  local Tea Party, and, as the Coss campaign has eagerly pointed out, the Santa Fe Republican Women and the Republican Party itself. This is supposed to be a nonpartisan election, and in person Ms. Kepler doesn't seem at all like an extremist. But a good shorthand for a person's core beliefs about property rights, gun rights, and the role of government in a just society is their party affiliation.
So should I vote for the third candidate, Miguel Chavez, who has raised hardly any money (the few donors whose names stand out include former Councilor Karen Heldmeyer and her husband, Russ Mosteller, and William Herrera, the retired dentist who sold the land on which the new Super Walmart is being built)? Mr. Chavez is as sincere and decent a man as I can imagine finding his way into politics. But unless the polls are horribly mistaken he hasn't a chance.
The City Council races are even harder to get worked up about. The incumbents in Districts 3 and 4 are running unopposed, either because their constituents universally love them or because they have given up on the process altogether. District 2, where I live, is rallying behind Councilor Rebecca Wurzburger, forgetting how her votes have encouraged a construction industry Gold Rush on the formerly historic east side and the legalization of vacation rentals. Her challenger, Stefanie Beninato, hasn't been able to make much of an impression. The only real contest is in District 1 where Russell Simon, an intelligent young candidate with real, actual ideas is taking on Chris Calvert, who has a Master's in Public Policy from Berkeley with undergraduate degrees in Conservation of Natural Resources and Aeronautical Engineering but works, for some reason, as a mail carrier. A third candidate, also a newcomer, is Doug Nava, a state tax examiner.
Once inside the voting booth I'll probably pull the lever or check the box for Mr. Coss and for Ms. Wurzburger's doomed opponent. Then we'll all wake up Wednesday morning with everything pretty much the same.
George Johnson
The Santa Fe Review